Creating engaging presentations is essential if you work in the corporate world. To be successful in any situation, whether you're attempting to persuade your boss to endorse a new campaign, meeting with a prospect to clinch the sale, or creating new marketing material, you must learn how to create PPT online.
What is the most efficient (and least time-consuming) method of doing this? Take advantage of appropriate tools for both creating and delivering your presentation. This post will go through some of the finest online presentation tools available to create PPT online for marketing as well as sales professionals.
Top 10 Tools to Create PPT Online
1. SlideHTML5
SlideHTML5 is an online presentation tool that allows you to convert PPT to HTML5 with relative ease. Convert an educational project into an impressive online slide presentation in a blink. Share slides online with teachers and students or integrate slides into LMSs simply by pasting a link. SlideHTML5 empowers everyone to share online PPT presentation slide presentations across all social channels with a simple click. Power up your content marketing engine with SlideHTML5 online PowerPoint maker. It's the online presentation maker that makes content distribution a true no-brainer.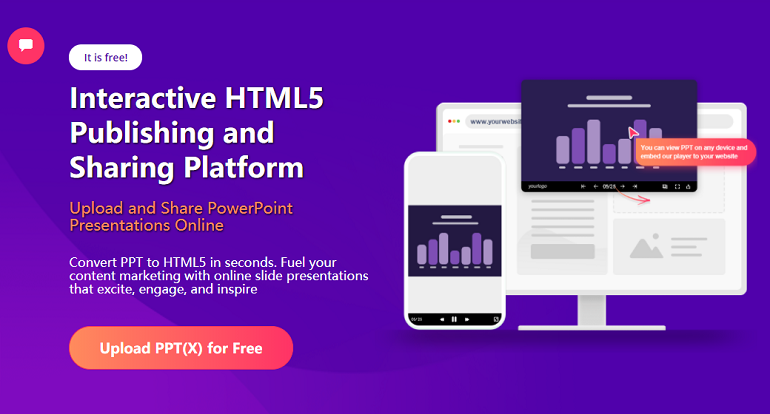 2. PowerPoint Online
PowerPoint online presentations may be created, edited, and shared with other people on this platform. Collaborate with others in real-time on shared projects Team members at school and home may collaborate on documents, presentations, and spreadsheets using Office Online.
Your choice to work is made possible by Microsoft's working capability with Office Online and Office programs installed on a computer. Take advantage of real-time co-authoring with Office Online, or if you already have Office installed on PC or Mac, continue to do work with the full power and create PPT online.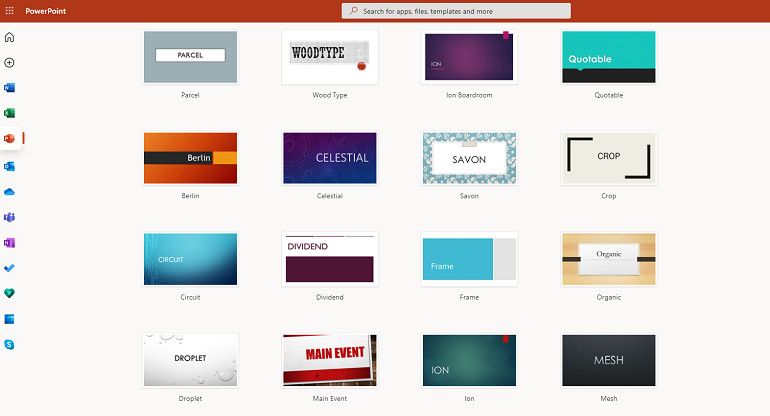 3. Slides
Your online PPT presentation can be embedded on other web pages. Pro users are allowed to convert PPT to HTML5 and export them to host presentations themselves. The Google Analytics tool lets you learn how the content is performing and where you are getting the traffic. Moreover, upload as well as play videos in your online PPT presentation slides. The video is automatically converted to a standard video format to make sure that it could play anywhere. Control how and when each element will appear on your online PPT presentation. Create PPT online presentation themes that your entire team can access.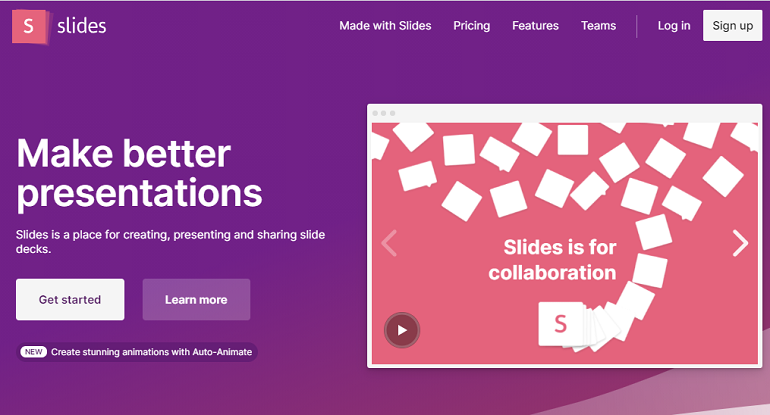 4. Zoho Show
In the marketing and sales world, Zoho Show is a favorite online presentation tool since it is accessible from anywhere at any time. There are many advantages to using this tool to create PPT online, including its simple, straightforward design and collaborative capabilities. Stay in sync with team members and make the partnership much more productive. From sales presentations to business proposals and startup pitch decks, Zoho Show online PowerPoint maker comes with 100+ pre-loaded templates to meet all your professional requirements. Use custom shapes to bring your data to life. Reinforce the data by using infographics and attract your audience with video and audio. Moreover, convert PPT to HTML5 and other file formats such as PPSX, PPTX, HTML, PDF, ODP, and much more.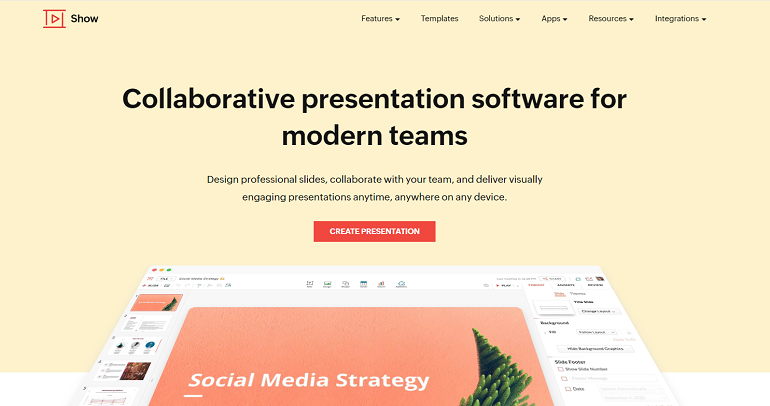 5. Google Slides
As an online presentation tool, Google Slides is designed to be used in a group setting. Instead of running on a computer, it runs on a browser and helps you create PPT online. Using this online PowerPoint maker, choose a theme for your slideshow and then add text, pictures, and slide transition effects using the options provided. Google Slides makes your ideas shine with a range of different presentation themes. Moreover, it makes it easier to collaborate with coworkers as well. Get to your presentations anytime, anywhere by your tablet, computer, or phone— even without an internet connection.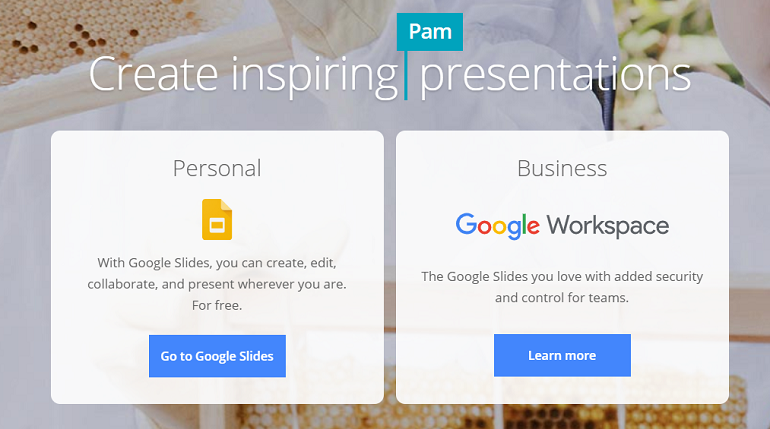 6. Prezi
Prezi is a great tool to create PPT online that integrates animation in an entirely new manner. The effect is that the online PPT presentation looks like it does not move slide by slide but plays like a film. Make a presentation by beginning with a template, a blank canvas, or even an imported slide deck, automatically converting into Prezi's format. The templates have different themes, covering Education & Nonprofit, Sales & Business Development, Marketing, and HR & Training. If you like to do something cool and different, then Prezi is the way to go.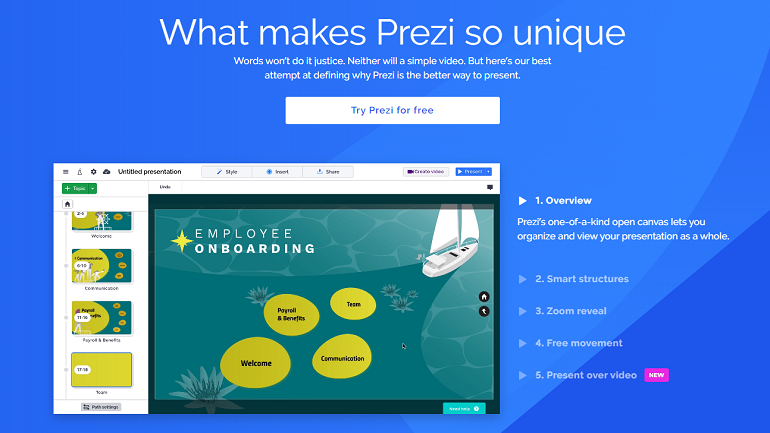 7. SlideShare
SlideShare is an amazing online PowerPoint maker to create PPT online. Display what you know using a presentation, document, infographic, or video. Visual formats of this online presentation tool help you to show up and resonate more with the audience. When you upload the slides to SlideShare, you reach viewers interested in your content – over 80% of SlideShare's visitors come through the targeted search. This could help build your online reputation with the right audience and promote more openings that are professional.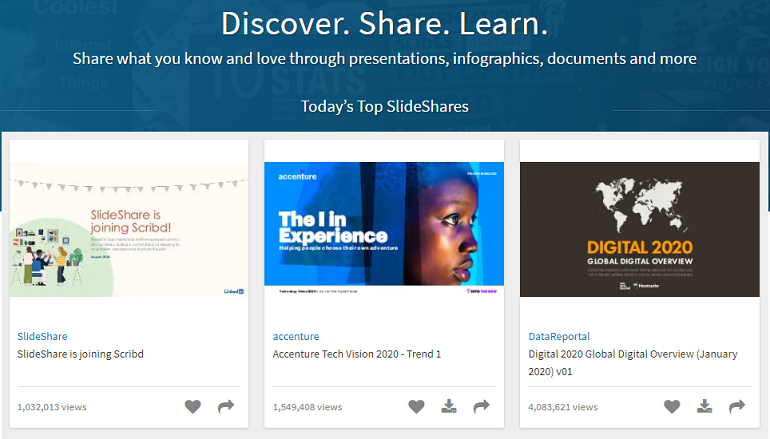 8. Haiku Deck
Choose from an array of stylish layouts, fonts, and image filters for the type of sophistication that graphic designers charge a huge amount to deliver. This online PowerPoint maker makes it simple and easy to follow the best practices suggested by the experts: use images to strengthen the emotional impact, simplify the message, and keep the formatting clean and consistent. With the Live Presentation mode, broadcast screens engage audiences anywhere in the world. Convert PPT to HTML5 in few seconds.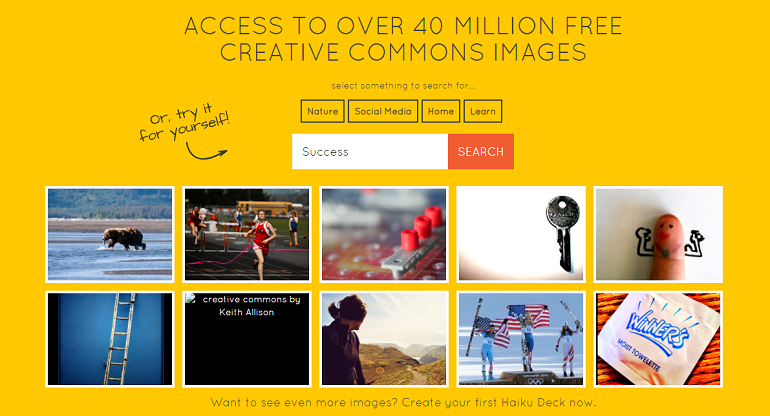 9. Ludus
Ludus is an amazing Presentation Software to create PPT online. A popular platform that comes with a number of different features and choices to tailor the presentations. The creativity option enables the users to create PPT online slides attractively. Hundreds of tools, along with a huge community, make it much easier to stand out from other dull presentations and come up with masterworks. Use your favorite fonts, add GIFs or videos, crop pictures, and apply different blending styles wherever you like. Moreover, the users can even build a collection of re-usable smart blocks. Besides creating presentations, users could also present the details live or share them with others using a customized URL.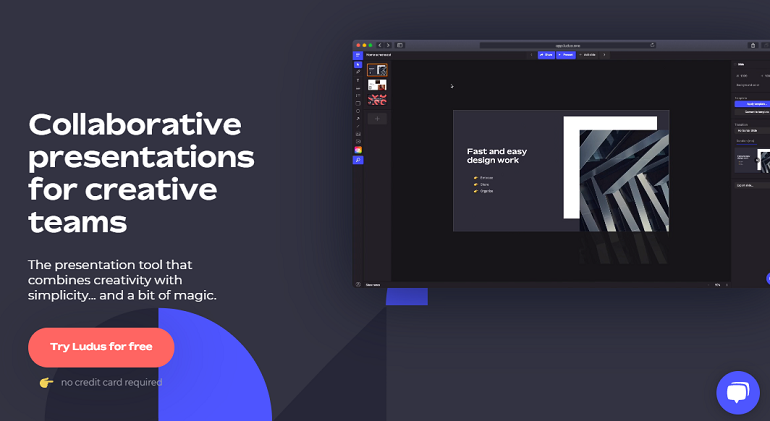 10. SlideServe
Besides extremely educational presentations & papers, SlideServe also offers a mind-blowing online presentation tool for designing lead forms, interactive quizzes, and more. Millions of visually-inclined individuals use SlideServe, a free site that enables users to watch, share, and download presentations. Using SlideServe, corporations may save their presentations/documents and promote their brand material via it. The presentation design tool enables people to generate aesthetically attractive slides in few seconds.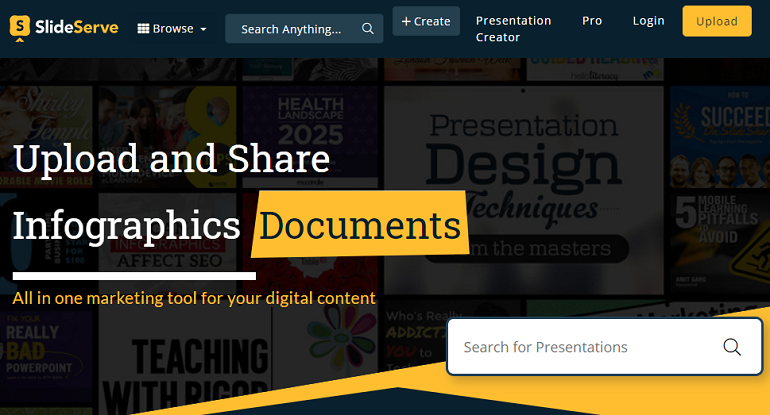 Conclusion
Depending on which direction you want to go with your presentation, each of the above-listed tools to create PPT online offers something different and unique. The online presentation tools are easy to use and affect your creativity in the process. With the usage of numerous stock images, different templates, stunning animations, and graphics, you can make your presentations captivating and notable.