If you are putting together a presentation, you are likely looking for a perfect online PPT presentation tool to help you design, present, and share it successfully. Well, you are in luck. We have curated a list of the top 10 online PPT presentation tools that can assist you in making presentations flawlessly with different online presentation ideas.
The latest crop of online PPT presentation tools go beyond the common slideshow experience, with innovative features to grab the attention of your audience, simplify the creation procedure, and turn slide decks into videos and different formats within seconds. Without wasting your time, let's take a look at that tools.
Top 10 Online PPT Presentation Tools
1. SlideHTML5
If you create an online PPT presentation and want to convert PPT to HTML, consider using Slidehtml5. An online presentation maker that can help you enhance your content marketing strategy and empower your interactive presentation. It enables you to create PPT online in just one minute and share slide presentations everywhere for free. Converting static data into interactive content with SlideHTML5 is the easiest method available. Anyone can access this resource and there is no need to install software or possess any type of technical expertise.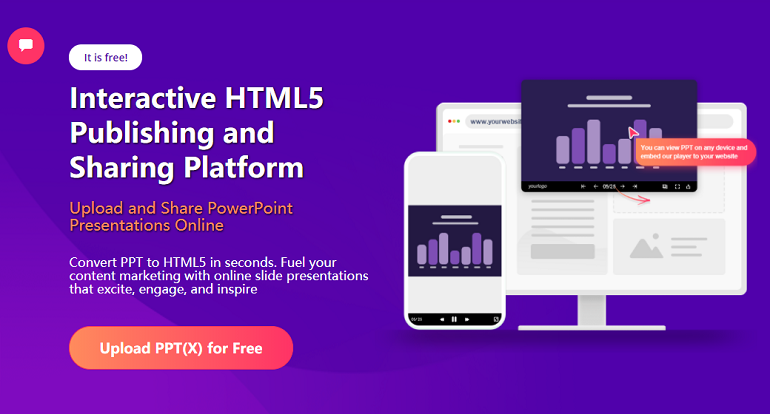 2. Google Slides
Google slides is one of the google workspace families that used to create PPT online and used as a share slide presentation. Moreover, the plus point that google slides carry is that it also converts your online PPT presentation into an HTML link. Pick a theme for the slideshow, then use the themes and templates in the Slide Transition menu to design the slides. You can invite anyone you want to add information, write notes, and add whatever else you'd like in your presentation.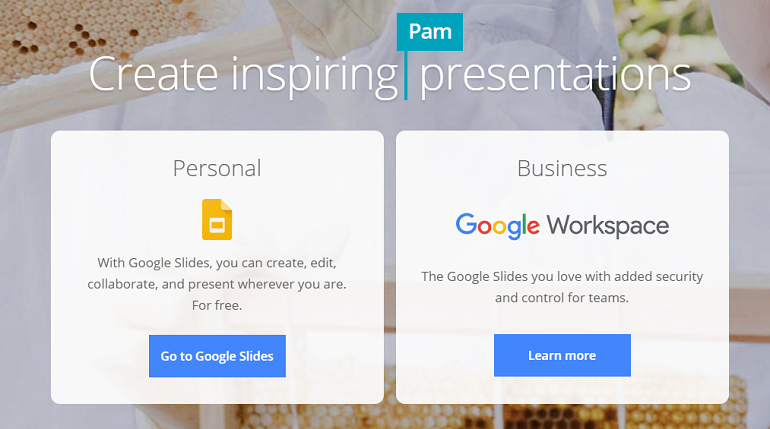 3. PowerPoint Online
With its biggest user experience globally, PowerPoint has an online version and an offline application, used as an online PPT presentation maker. Share slide presentations with anyone you want to. There are a lot of features in PowerPoint that are there to create marketing and sales presentations that are dynamic and engaging. Adhering to acceptable PowerPoint usage can help make teaching and learning a more pleasurable experience for both students and teachers.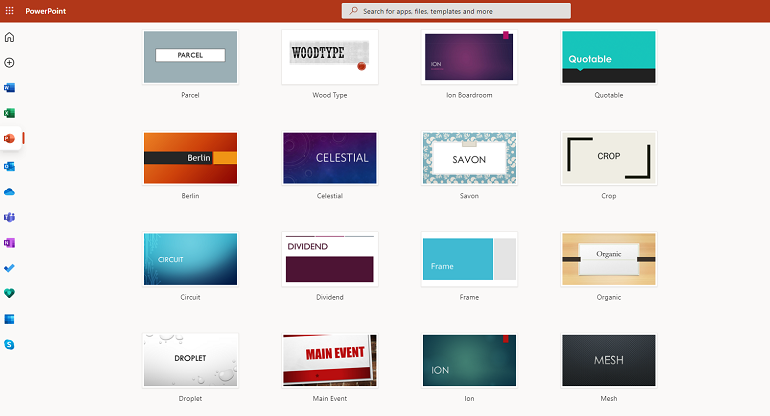 4. SlideShare
SlideShare is a famous online PPT presentation maker used to create PPT online and slide-sharing platform owned by LinkedIn. Because LinkedIn is a highly qualified networking site, SlideShare users are typically business-oriented and the user base continues to grow. According to SlideShare's statistics, the site has 80 million users. There are 40 distinct categories, and the slideshows have been retrieved or downloaded millions of times. Thus, with such a large user base, the opportunity to reach a large audience via SlideShare is unquestionably there. The best part is that there is no charge for uploading, reviewing, or downloading information on SlideShare.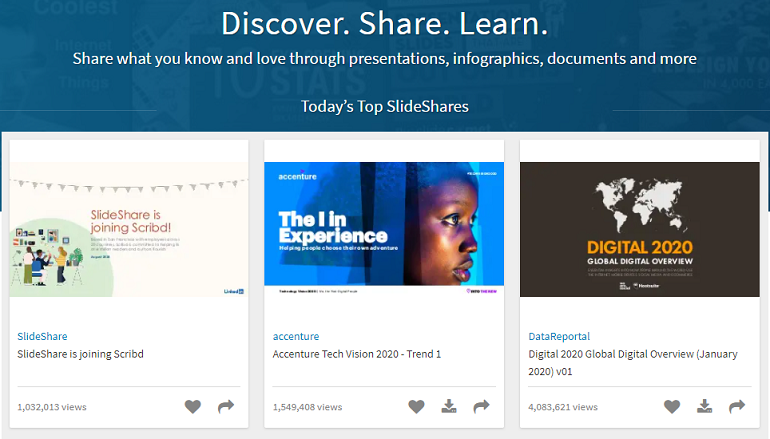 5. Haiku Deck
Haiku Deck is one of the most image-centric online presentation makers available if you're a visual person. It's intended to create PPT online and share slide presentations the same way as PowerPoint, but the templates encourage users to focus on the breathtaking visuals in the background. Haiku Deck includes a sizable library of customization templates and images, so you won't need much to get started creating a stunning presentation. If you want to increase audience engagement through visuals and your presentation does not require much text information, Haiku Deck may be the perfect answer for you.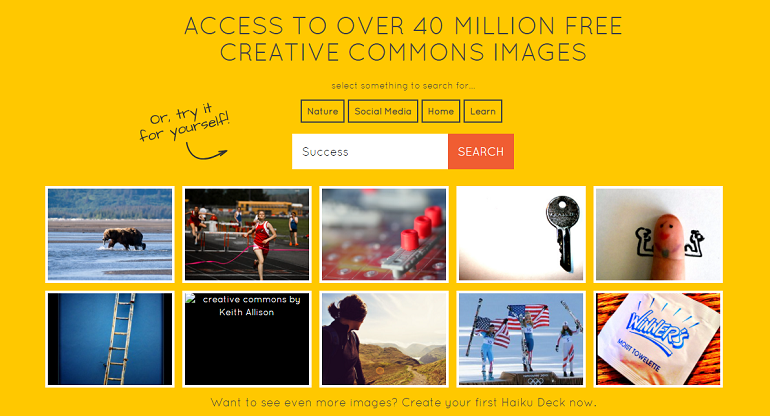 6. SlideServe
SlideServe is a fully integrated content hub that features everything from highly informative presentations and documents to breathtaking online presentation maker tools, lead forms, and collective quizzes. SlideServe is a free service used by millions of visually impaired individuals to create online PPT presentations and host their presentations, and display, share and retrieve them. You can share your slide presentation online with anyone you wish.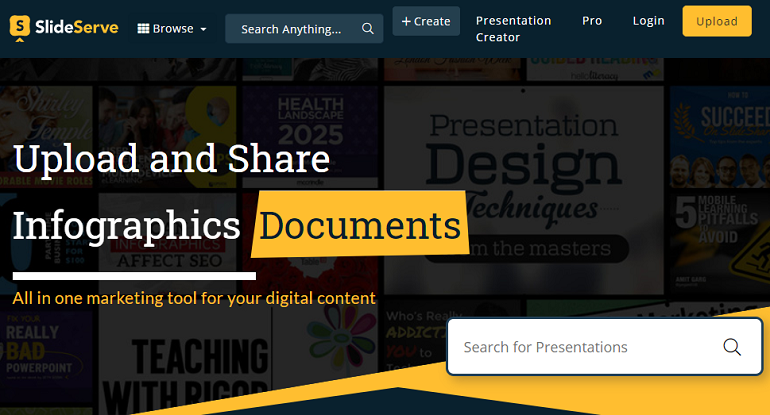 7. Visme
Visme is an incredibly simple-to-use online PPT presentation tool with a drag-and-drop powerful editor that enables you to create and share PPT presentations online quickly. Visme's presentation tool requires little graphic design experience, as it includes over 1000 templates and slides, as well as visuals, graphs, and data widgets. Naturally, if you are more skilled and experienced, you can start from the beginning and create your slide library.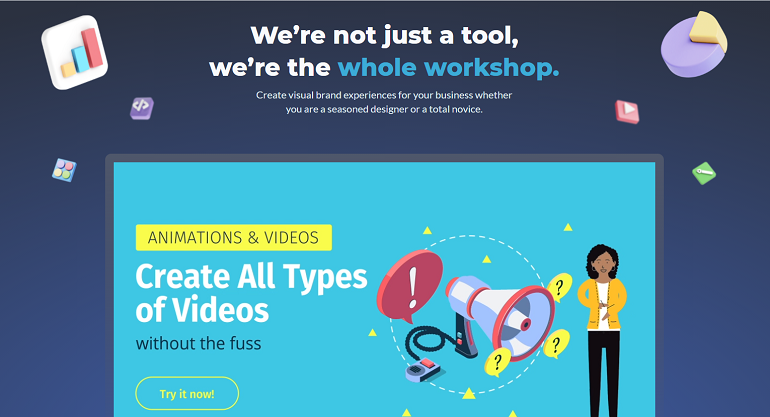 8. Prezi
Prezi is a well-known cloud-based online presentation maker platform that enables you to create interactive online PPT presentations and track your progress. Based on your plan, you'll have access to a massive library of templates covering branding, sales and revenue, business, and academic topics, as well as editable icons and images. Additionally, developing your online presentation ideas is a breeze thanks to the drag-and-drop function, enabling you to incorporate intelligent structures. Prezi has pioneered a novel technique for increasing the engagement of presentations by eschewing the traditional look of a slide presentation.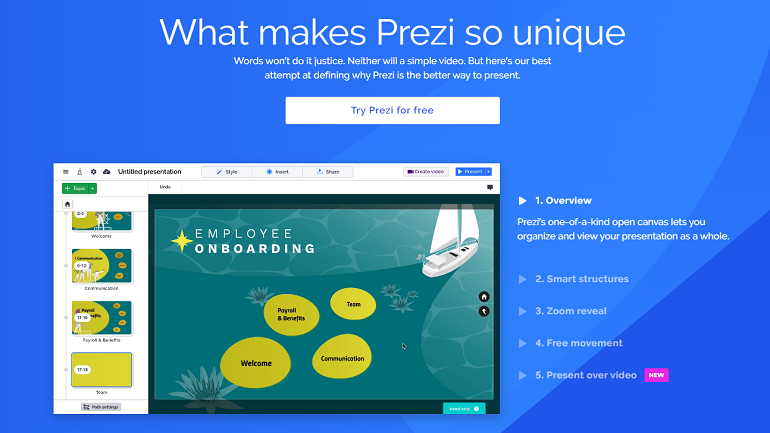 9. Zoho Show
Zoho Show is a free online PPT presentation maker that makes spectacular presentations, but the interface is much simpler, less cluttered, and less complicated than PowerPoint. Using Zoho Show to develop and implement your online presentation ideas. Zoho Show has 17 prebuilt themes, with over 200 additional graphics and slide transition effects available in the Gallery. Zoho gives everyone the ability to create a simple PowerPoint presentation without having to pay for the application.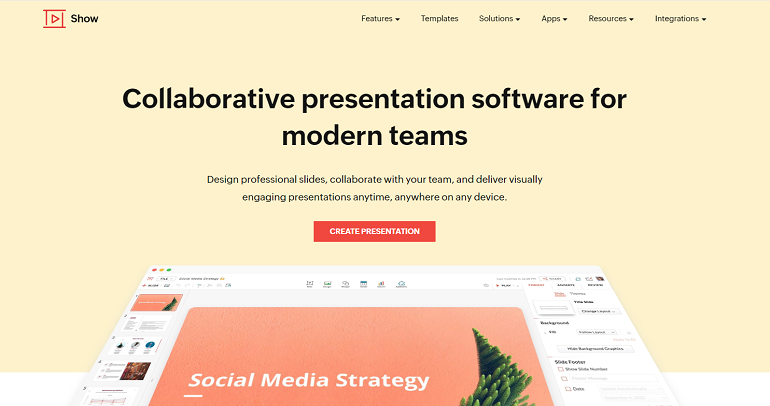 10. FlowVella
FlowVella is a modern and effective online PPT presentation creator that is particularly impressive and produces captivating presentations. Your narrative transforms into an immersive, engaging conversation when you mix phrases, photos, video, links, galleries, and PDFs. Design an excellent, interactive experience with dozens of professionally and high-quality designed templates, photos, videos, GIFs, PDFs, and images. So start using FlowVella as your online presentation maker.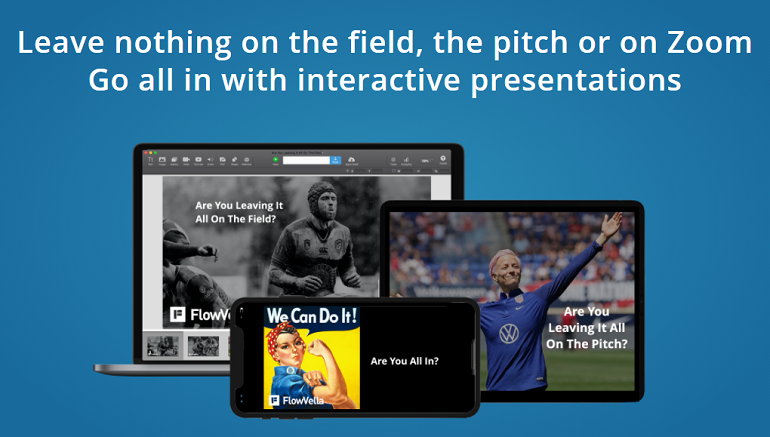 Conclusion
Without a doubt, the appropriate online PPT presentation tools are out there for each industry. These programs to create PPT online are cloud-based, some are available for free use, while others are supported with premium features. Using these online presentation makers to make your presentation engaging.
Create An Online PPT Presentation Now