An interactive presentation provides you a great and effective way to present your ideas and speak confidently to your audience. With the right set of online presentation tools, you can create an eye-catching HTML5 presentation and keep your audience engaged by providing information in a clear and concise manner.
In this article, we have mentioned some most popular online presentation tools that are easy to use and you don't even need to learn any new software from scratch or download anything extra to your laptop or PC.
Top 8 Online Presentation Tools
Upon searching on Google for online presentation tools, you may see a number of tools that allow editing, sharing, designing, and converting PPT to HTML5. However, finding some handy presentation tools that fit your needs can be a challenging task, especially if you are doing it for the first time.
That's why we've compiled a list of only those online presentation tools that are absolutely secure, risk-free, straightforward, and are widely used. So let's get started!
1. SlideHTML5
If you really want to capture your audience's attention by making the presentation eye-catching or converting an existing one into HTML5, then you should definitely try SlideHTML5.
Whether you're a marketing expert or a student, this amazing free presentation maker is a perfect option for everyone who wants to publish any of their PPT online in HTML5 format without having to write any code. No installation or technical skills are required in order to work with this online presentation maker. SlideHTML5 is accessible from all devices and from anywhere so once you have published the presentation there, it can be easily accessed anytime. This free presentation maker helps you share your slide presentations on various social media platforms to get more clicks and shares.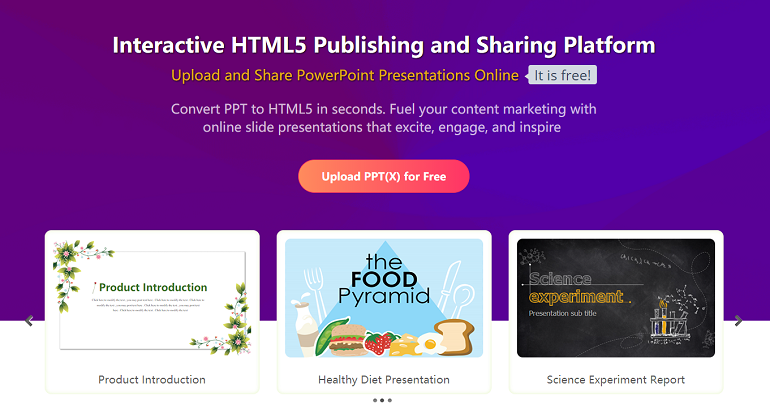 2. Focusky
Focusky is another great free online PPT maker designed specifically for Windows users with a free cloud hosting service. Focusky is a leading online presentation tool currently available in the market due to its dozens of amazing features and ability to design a professional-looking presentation in minutes.
Its pretty simple and user-friendly interface is equipped with lots of transition effects and allows you easily design and publish an outstanding animated video presentation. Over 1,000 templates, tons of built-in templates & character libraries, smooth animation, animated text, icons, and shapes are few excellent features of this online presentation tool that make it the perfect choice for any type of user. What's more, Fosusky guarantees you complete privacy and provides you a safe cloud hosting service for sharing HTML5 presentations on social networks.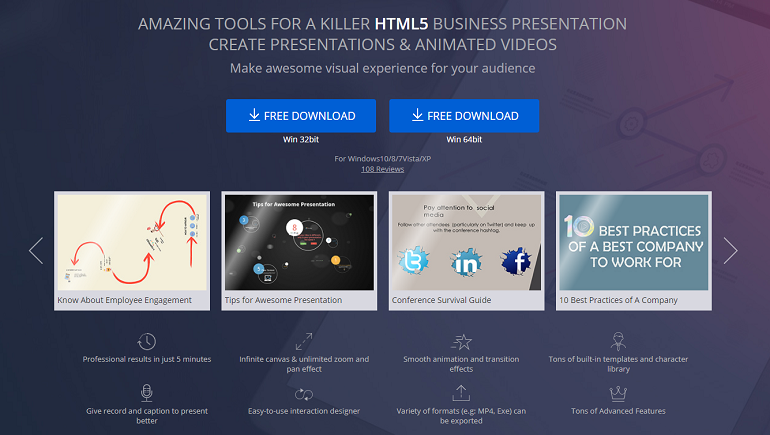 3. Visme
Packed with tons of useful features and a simple interface, Visme is without any doubt a great online presentation tool for beginners, looking to create highly engaging and effective presentations. Other than offering a drag and drop feature, it offers a variety of themes with hundreds of thousands of slide designs for creating a highly professional presentation and stand out from the others. Whether you want to work as an individual or as a team, this tool has each and every feature that is enough to help you do something unique and impressive.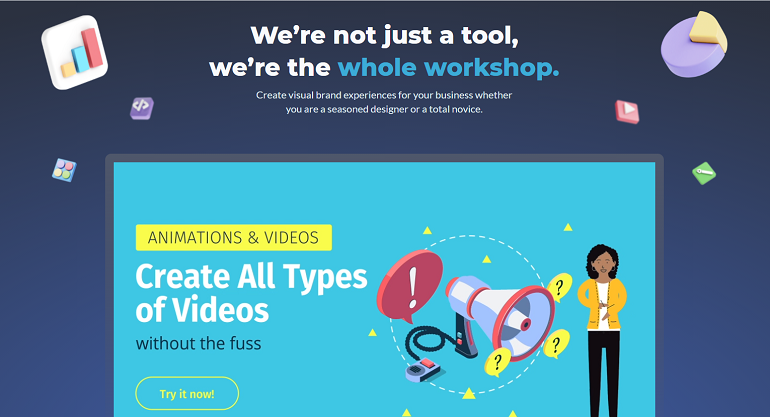 4. FlowVella
FlowVella is an easy-to-use tool and contains all the features you would expect from any online presentation tool. It is available for use in both online and offline versions, which means that one can create or present anything without an internet connection. If you have no idea about the presentation design or style, It also offers a number of professionally designed templates that can be used and modified.
The best part of FlowVella is that it supports almost any media and also allows PDFs to be embedded in a slide or screen. It has every single presentation and image editing option and this tool is available to download for iPad, iPhone, and Mac.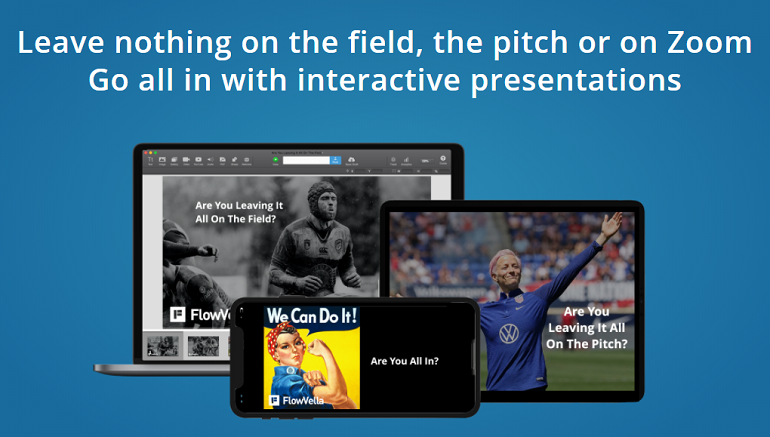 5. Prezi
As the biggest PowerPoint alternatives, Prezi is a web-based tool for creating and sharing online presentations, infographics, social media posts, and more. Not only does it help users make presentations that act as moving slideshows, but it also provides a collection of templates to choose from. It supports the use of text, images, and videos to enhance your existing PowerPoint slides into a Prezi presentation or create a new one from the built-in template.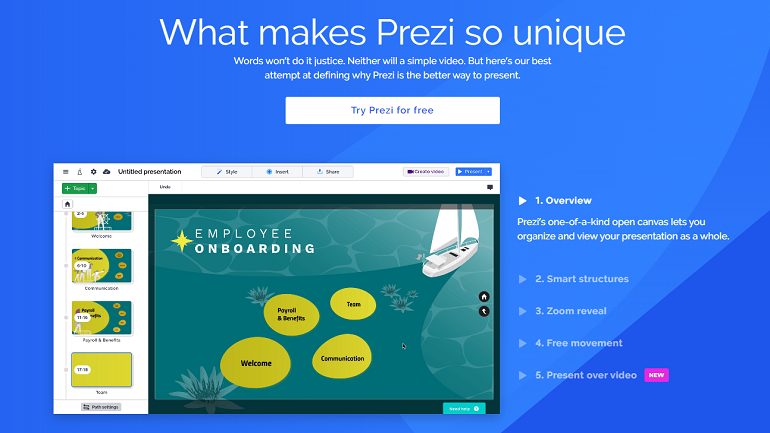 6. SlideShare
SlideShare is not like the online presentation tools we mentioned above, rather it is the largest community in the world for sharing and uploading different types of work and presentations. It's a great place to upload and share PowerPoint slideshows, presentations, infographics, or videos, and receives over 70 million visitors each month. Anyone can use this website to get a lot of new and interesting ideas about their presentation and also share the work on it with the world's largest community.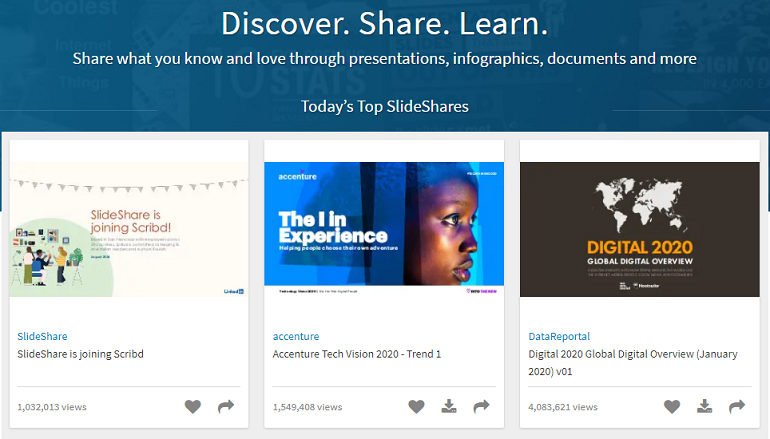 7. Google Slides
Almost everyone is familiar with Google Slides because it has the distinction of being the most popular and widely used browser-based online presentation tool on the Internet. Not only does this online presentation maker is 100% free, secure, and trusted but it also offers a lot of necessary options that you need to make and edit notable presentations in your browser without installing any software.
Up to 100 users with editing permissions can edit and make changes to a single presentation at the same time. No learning curves are required in order to work on it and every little change you make will be instantly saved in Google Drive and later can be accessed from anywhere and anytime using your computer or mobile device.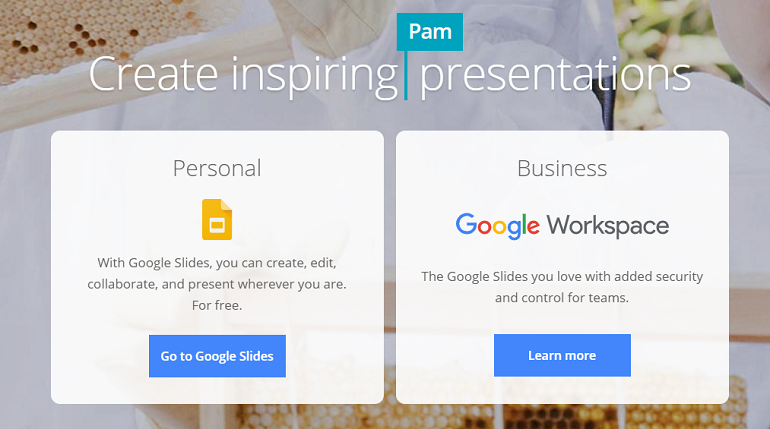 8. Ludus
Last but not least, Ludus is arguably another most advanced online presentation maker tool specifically designed for creative people and professionals who want to design the next level of presentations.
Although it has many powerful and professional features, its interface remains intuitive as it uses smart blocks instead of the usual slide templates. Anyone can easily drag and drop various objects to turn their imaginative ideas into reality, including 3D models, cloud-based files, videos, VR experiments, sound clips, and many more. It's completely web-based and provides you with lots of fonts, icons, images, gifts, and much more to edit and share the presentation like a pro.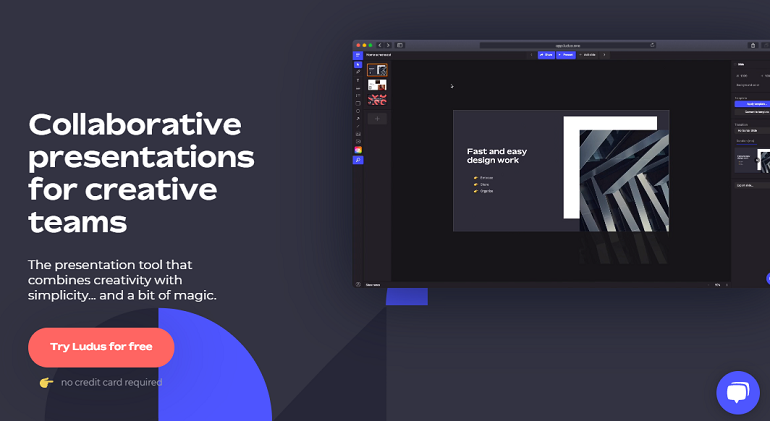 Conclusion
Above we've shared with you several excellent online presentation tools that can be used to design pretty cool presentations. Few of them are paid and a little difficult to use for the average user while some are very straightforward and free, just like the SlideHTML5.
SlideHTML5 is not only an extremely convenient tool for both beginners and professionals but also an ideal online presentation maker with every necessary option that one needs to turn their presentation into a more elegant and easily accessible format.
Make Online Slide Presentations Now