The best free presentation maker makes creating attention-grabbing presentations simple. For those looking for a presentation maker for everyday tasks, school projects, and work meetings, there are a plethora of excellent free presentation makers available. While they all have different features, they nevertheless provide a capable foundation for creating the presentation you need.
If you don't know what you're searching for, finding the best presentation software may take a long time. Let's take a look at the top eight free presentation makers available today to see if they can help.
What Makes a Great Presentation Maker?
Everyone sought utility players while searching for the most suitable free presentation maker since slideshows are used for anything from pitch decks and product debuts to class lectures and religious sermons. Here's what to look for in presentation tools:
● Pre-built templates: The best presentation maker should have beautiful, professional-looking templates that can be used to make presentations quickly.
● Options for sharing and collaboration: More people are working from home. It should be easy to exchange files and interact in real-time, whether you intend to publish your webinar slides later or just want to collaborate on a presentation with a colleague.
● Flexible and customizable options: Templates are excellent, but the top presentation applications should let you customize almost anything, allowing you the freedom to create exactly what you need.
● Affordability: It's important to design compelling presentations, but you shouldn't have to break the bank to do so. Affordability is a major concern with so many capable free tools on the market.
8 Best Free Presentation Makers to Share Slides Easily
1. SlideHTML5
SlideHTML5 is the overall best presentation maker to share slides easily. Without writing any code, SlideHTML5 enables users to design dynamic and engaging online presentations. Convert PPT to HTML5 presentation just in few minutes. It's great for using it to present your content in an appealing manner. This online presentation maker guarantees that your slides run well on desktops, tablets, and smartphones. Then, no matter where they are, anybody can read your presentations.
Users can create online presentations that will improve the company's communication. Every team can use SlideHTML5 to make online presentations, discuss ideas, exchange information, and quickly learn something new.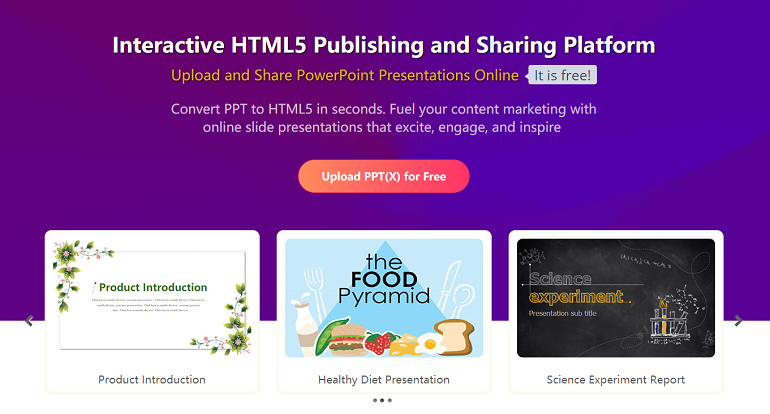 2. Visme
Visme is a free presentation maker and among the most comprehensive online presentation makers. It is simple and easy to create professional presentations. Almost anything may be customized or moved.
Visme can also be used to design infographics, reports, and interactive charts, among other things. There are lots of customizable templates included with the free presentation tool.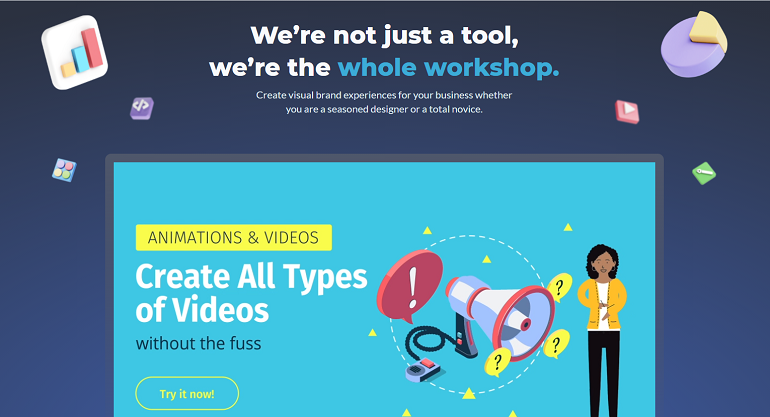 3. Prezi
Prezi turns the traditional presenting model on its head. Unlike other free presentation makers, instead of generating several slides, this presentation software provides you with one large canvas to work with. You may add text or picture blocks or even make mini-slides. With this tool, users can seamlessly move around the canvas and zoom in to look at specific chunks of content throughout their presentation.
Prezi is surprisingly easy to use, given how complicated it seems. The only significant difference from other tools is that animated pathways from one area in the canvas to another must be included.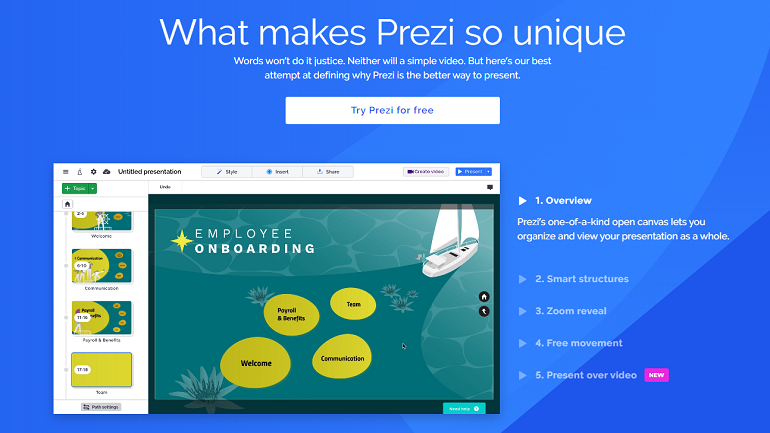 4. Venngage
Venngage is primarily an infographic maker but it is also a decent free presentation maker. They've incorporated basic presentation-making capabilities, but its design dashboard isn't as feature-rich as some other presentation applications and software on our list.
Venngage does not provide any kind of animation or transition features for going from slide to slide, despite the fact that each of their plans includes various presentation templates.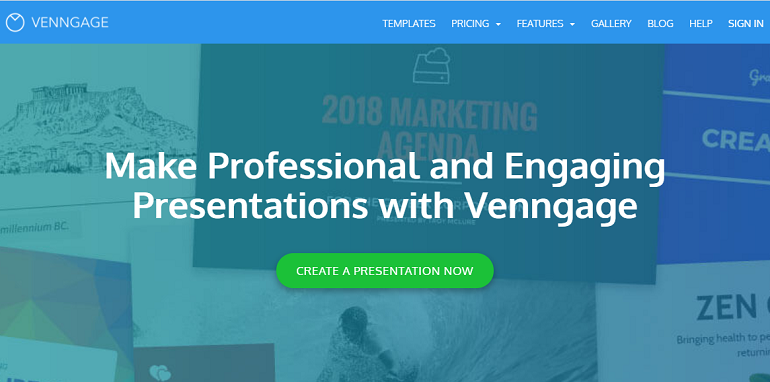 5. Focusky
Focusky is known for its plethora of amazing features that allow designers to build their own unique presentations on any topic without spending anything and in less than a minute. You may apply animation effects (Entrance/Emphasis/Exit Effects) to different elements in your presentation with this presentation creator software.
You may also insert shapes, text, images, hyperlinks, audio, online video, and other media types. Attractive vector materials and more than 100 built-in animated characters are included, allowing you to create a large project quickly and effortlessly. Most importantly, this presentation maker allows you to share your presentations on social media and upload them to a cloud platform.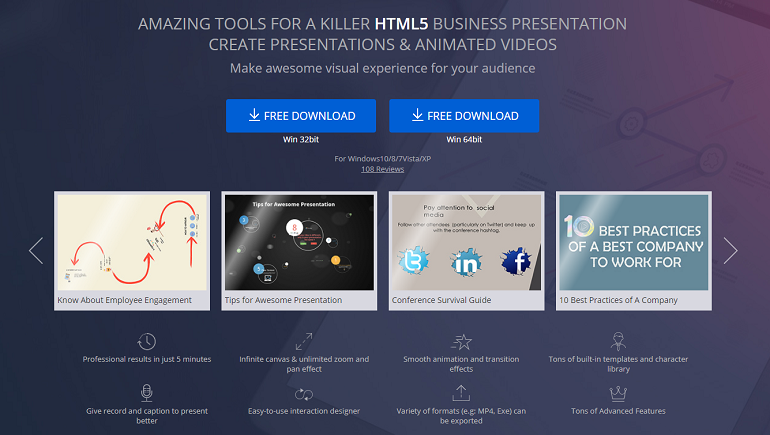 6. Google Slides
Google Slides, which is part of Google Workspace (previously G Suite), does a good job as an online presentation tool. This free presentation maker allows you to include videos, diagrams, and animations in your slides. While the number of templates available is limited, users can easily import hundreds of other templates for free or build their own.
Even better, Google Slides has the collaborative features that Google users have come to expect. A slideshow can be worked on by several people simultaneously, and there's an integrated group chat so users can keep track of what's going on.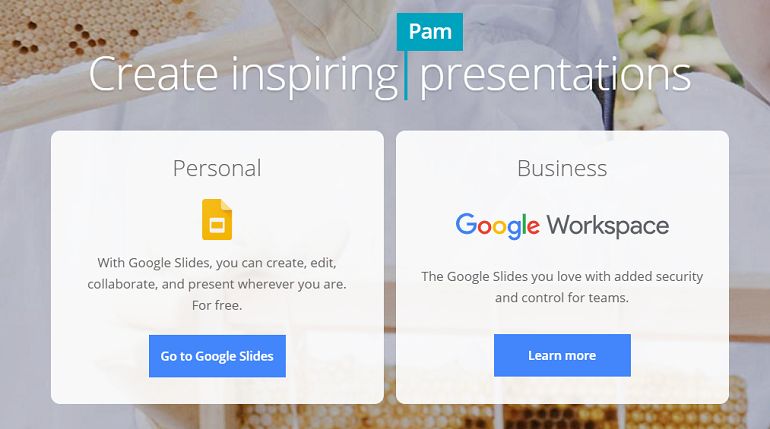 7. Zoho Show
Zoho Show is a free presentation maker with minimalist and contextual UI that allows you to easily add photos, edit text, animate slides, etc. Zoho Show comes pre-installed with more than 100 templates to meet all your professional needs. The real-time collaboration function on the slides can keep your team in sync and improve collaboration efficiency.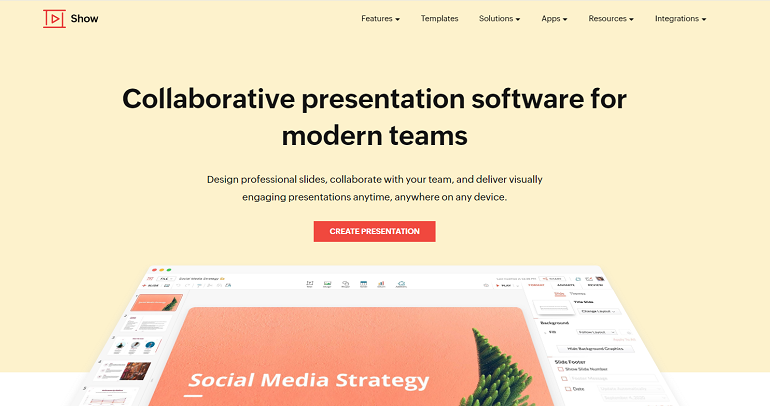 8. Canva
Canva is perfect for quickly creating presentations in your web browser. This free presentation maker comes with several free templates to help you get started with your presentation, and you can easily modify the templates to meet your requirements. Although there isn't a huge variety of content elements to utilize in your presentation, Canva compensates with a searchable collection of over 1 million images.
Your Canva presentations are available online, making collaboration a breeze. You can invite colleagues to help you edit your slideshow (but simultaneous editing is not possible) or share your completed presentation in real-time.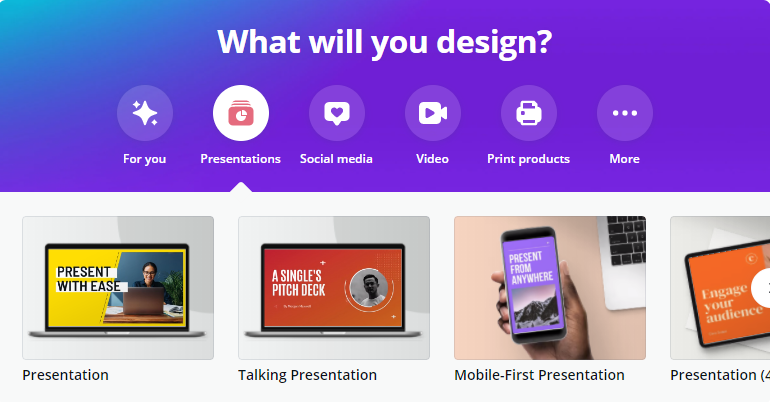 Final Thoughts
These are some of the top free online presentation makers to share slides easily. While all of them are great in their respective features, SlideHTML5 is the best online presentation maker due to the vast features it has. Users can turn PPT to HTML5 presentation instantly, which is quite helpful for those looking to upload their presentation to the web.
Make Free HTML5 Presentations Now