There is no substitute for excellent presentation abilities, whether used in front of one's team, upper management, or an external customer. It's time for researchers to share their results. Professionals offer proposals, budget requests, and all of their other work to the public. There's good news: many of the free interactive presentation tools available today are vastly superior to the old standbys you're used to as a free presentation maker. An effective presentation relies on developing compelling content, including visuals, and presenting it in an orderly, confident manner. Check out this list of free interactive presentation tools that you can use to make fantastic presentations.
10 Google PowerPoint Online Alternatives You Should Know
1. SlideHTML5
SlideHTML5 is a free interactive presentation tool and online PPT maker that quickly and easily converts PowerPoint to HTML5 and shares slide presentations with everyone. An online free presentation maker that excites, motivates and inspires your content marketing efforts. SlideHTML5 online presentation maker will give your content marketing efforts a boost. Avoid bulky PowerPoint files by creating slides online instead. Interact with your audience and gain more clicks, likes, and shares on your SlideHTML5 page by interacting with them. Convert educational, business, and marketing projects into an impressive presentation to impress your teachers or level up your company's communication with this free presentation maker.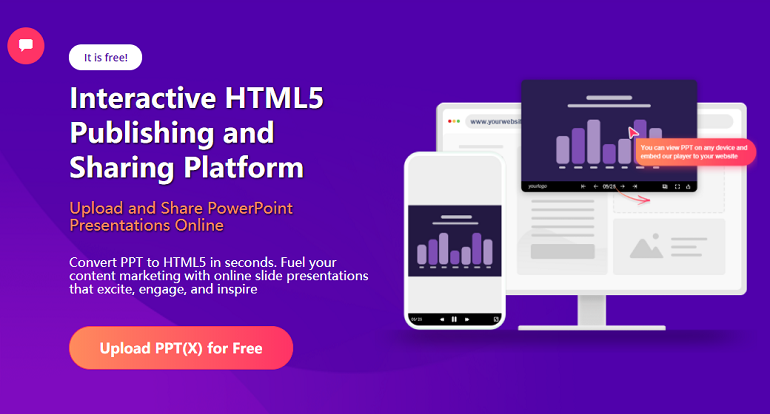 2. Focusky
Focusky is another one on the list of best free interactive presentation tools that provides a novel experience with interesting zooming and panning effects during electronic presentations. You can share slide presentations online on various social media platforms. Instead of confining slide content to a finite amount of space, Focusky displays your vision with a free-scaling stage that enables you to freely show your content and regulate presentation frames, as well as customize your presentation. With Focusky, you can immediately start by creating a new PPT online free project or updating an existing one by drag – and – drop on the infinite canvas.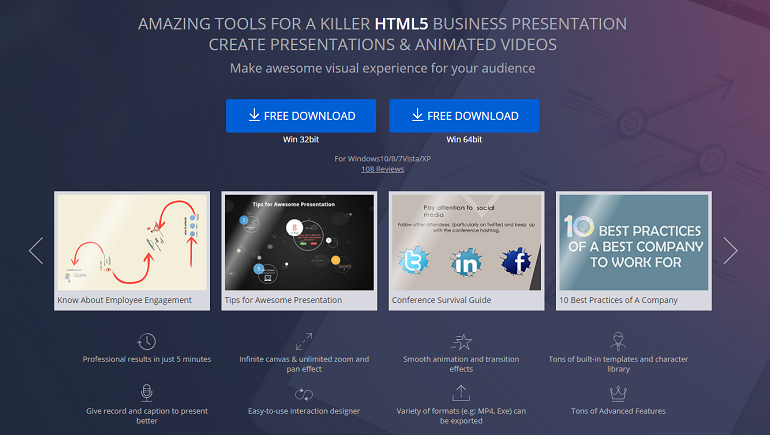 3. FlowVella
FlowVella is cutting-edge and very effective among the top free interactive presentation tools that create enthralling presentations that leave audiences astonished when presented all at once. When you combine language, photographs, videos, links, galleries, and PDFs, your tale becomes an immersive, engaging dialogue. Create an outstanding interactive experience by utilizing dozens of professionally designed themes, photographs, videos, GIFs, PDFs, and graphics. With FlowVella, you cannot only create PPT online free but can also share slide presentations easily.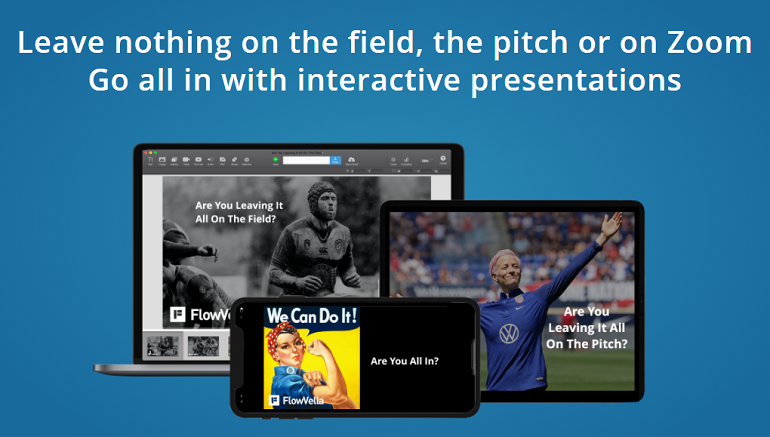 4. Prezi
Prezi is another widely used free interactive presentation tool. Prezi enables users to make non-linear PPT online free effortlessly. A pan and zoom effect can be used instead of side-to-side transitions to keep your audience interested. However, your audience may find it refreshing. Instead of just moving on to the next slide, switching slides moves the viewer through the track to the point that must be conveyed to understand the message. That way, your audience can follow along with you as you go through your presentation's steps.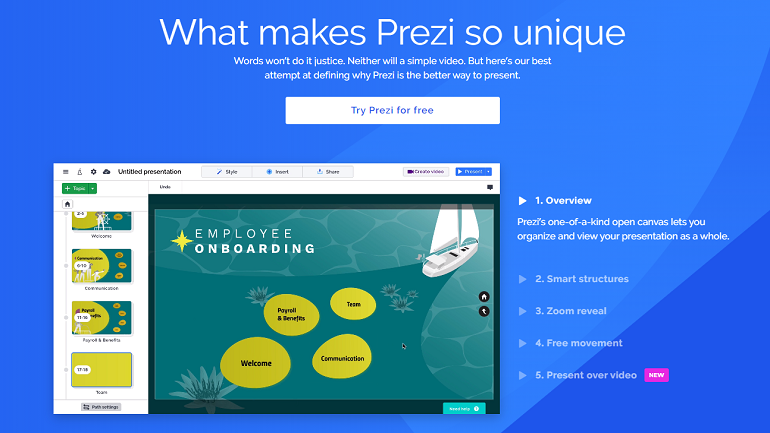 5. Zoho Show
Zoho Show is among some of the amazing free interactive presentation tools. Zoho Show's interface is far more basic, with fewer distractions and complexities than PowerPoint. Zoho Show can help you put your presentation ideas into practice. In the Gallery, over 200 additional visuals and slide transition effects are available to help build out your presentation. Zoho Show features over 200 custom graphic and transition effects to pick from. Everyone can make a basic PowerPoint presentation with no out-of-pocket expense.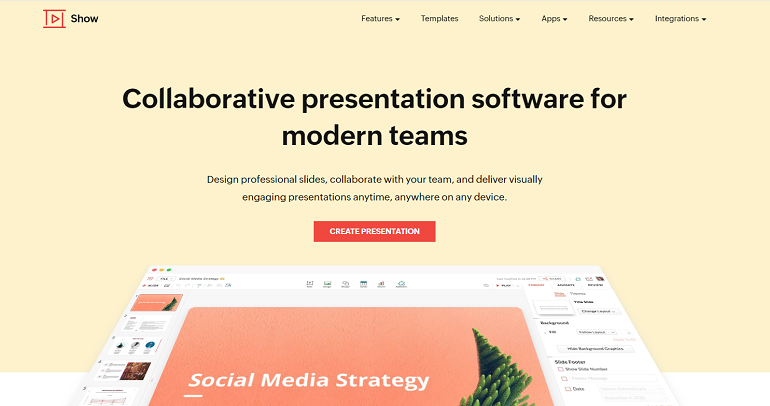 6. SlideShare
LinkedIn owns SlideShare, a presentation-sharing software application and a free interactive presentation tool. If you are looking to deliver your slideshow to a professional audience, it's worth taking the time to know about this online presentation software. SlideShare is a website where you can share your PowerPoint presentations with others. When sharing presentations, the user can make the information public or send it to a small set of recipients. SlideShare presentations are similar to online material since they are viewed via the Internet. Like much online information, their similarities are what makes them recognizable.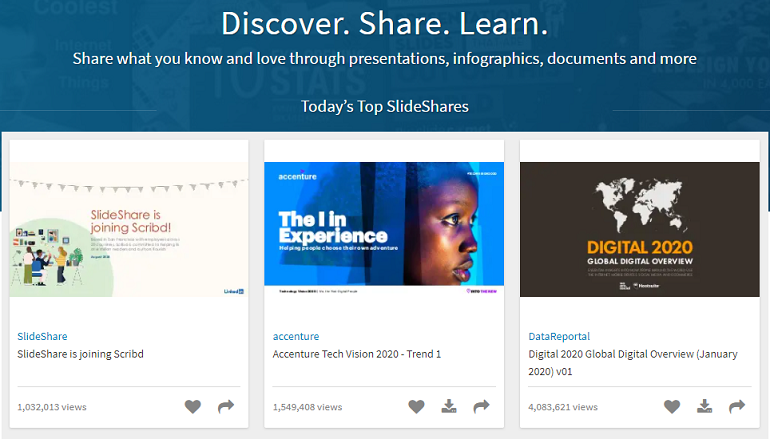 7. Google Slides
Google Slides is another one in the list of free interactive presentation tools that works as an online PPT maker to share slide presentations on various social media platforms. Using real-time communication technologies, the online PPT maker is a good fit for the increasingly hectic workloads. If you're planning to post your presentation online, then Google Slides is a strong choice. Additionally, although Google Slides is cloud-based, you may configure it to run offline if you like. Use your presentation to share all of your slides and information to get the presentation you desire.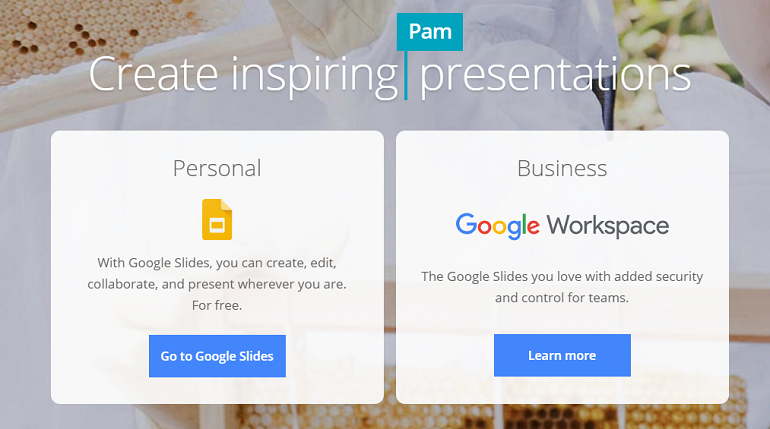 8. Ludus
Ludus is one of the finest free interactive presentation tools that combines creativity and simplicity with having a most collaborative team and numerous features. Ludus provides a designer-friendly environment that you are already familiar with. You can resize, trim, and edit photographs, GIFs, and movies however you choose with this ppt online free maker. Another great feature is that you may construct your library of reusable intelligent blocks. This makes it stand out from other free presentation makers. You get to choose whether to present life or transmit your presentation with a personal URL.
9. Visme
Another addition among some of the top free interactive presentation tools is Visme that translates data into visual information in the form of presentations and infographics to assist people and teams in visualizing and communicate data. The online PPT maker gives users the ability to arrange project data in folders, giving them the ability to grant special access to particular teams or people. Visme offers multiple automation capabilities, including automating the publication and tracking of presentations and their effect.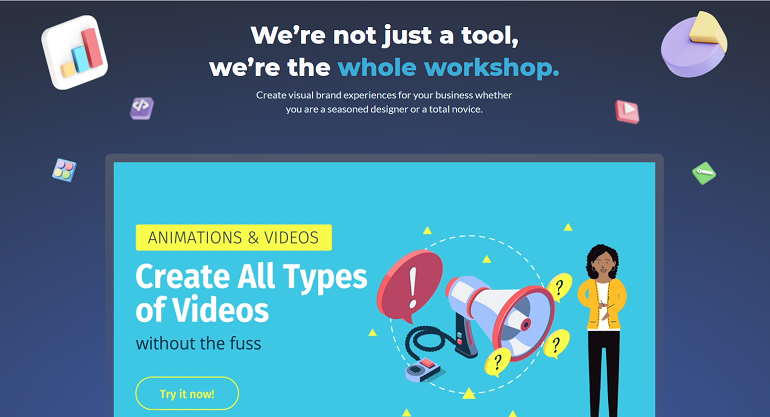 10. SlideServe
SlideServe includes documents, presentations, and collective quizzes. Presentation makers find this free interactive presentation tool resource exciting because it contains a comprehensive presentation-creation tool. SlideServe, a free program, offers many different features to blind people. It allows them to make presentations in various formats, host their presentations on the Internet, and share or retrieve them. You can also make your presentation available to anybody on the Internet.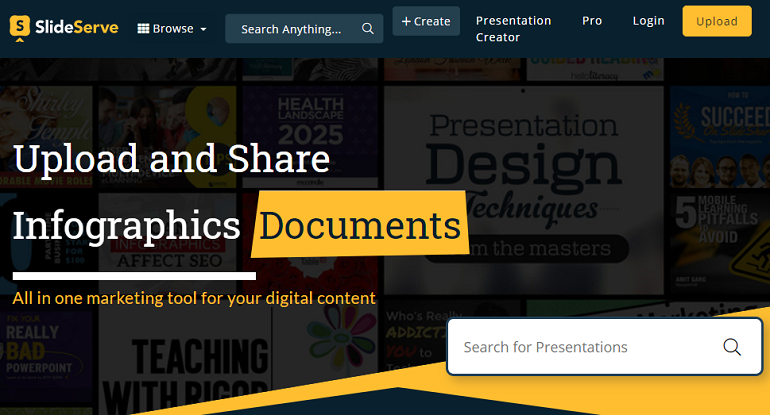 Conclusion
Two things will be evaluated in your presentation: well-organized and confident delivery, a good design. You can create engaging slides with this extensive list of the finest free interactive presentation tools to produce your most dynamic presentations. SlideHTML5 is a good choice as you get a lot of options to make your presentations and share them in just a few clicks.
Create PPT Online with Free Interactive Presentation Tools