Presentations are amazing mediums to provide ideas to others. There are various ways to make interactive presentations with online PowerPoint makers. Apart from making slide presentations, share slides are something that also needs to be done. There are is a huge list when we talk about sharing slides using online presentation makers.
Best 10 PPT Share Websites You Should Not Miss
1. SlideHTML5
SlideHTML5 is among the best online PowerPoint maker that gives you the easy choice of converting your PowerPoint to HTML in just a single click. Not only this, but this online presentation maker can customize keywords, page titles, and extract the text of PPT so that Google can easily search for your content. The capability provided by SlideHTML5 for your ppt shared demand is astonishing and allows sharing file options with your colleagues in no time. SlideHTML5 is a great option for online PowerPoint makers in the long run.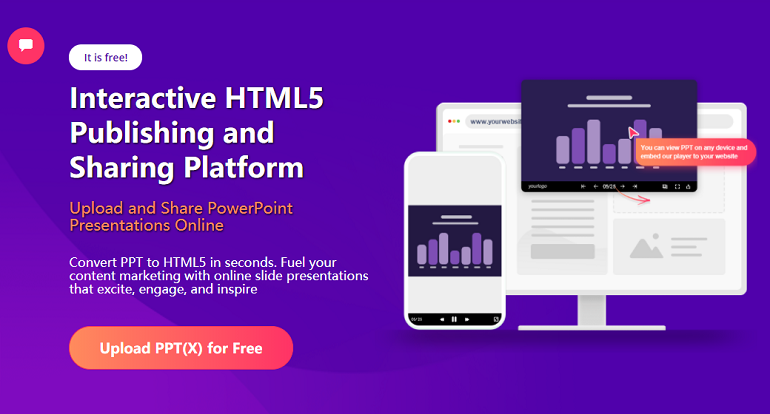 2. Focusky
Are you trying to make animated videos in presentations? Focusky is the best video presentation maker you need. It provides a wide variety of templates for creating online presentations. Focusky enables you to convert PowerPoint to HTML and even add various kinds of transitions to them. Store your data on to the cloud storage, making it quite easy to share slides. As a PPT share website, Focusky is no doubt a real handy tool that one can use.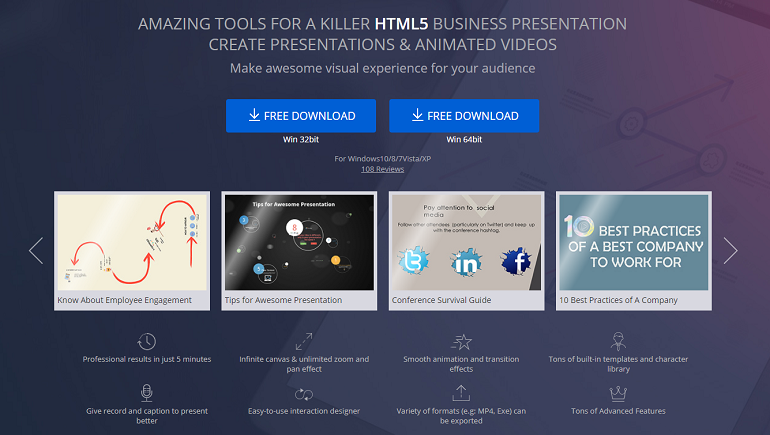 3. SlideServe
With over 1 million online PowerPoint presentations, SlideServe is another great site for PPT share. This online presentation maker has an AI system that helps you design your PowerPoint presentation with great ease. SlideServe gives you the option to select a format if it is to be made in PPT or HTML or if you want to convert PowerPoint to HTML. It has more than a million downloads making it the best tool for your PPT share and a wonderful online PowerPoint maker.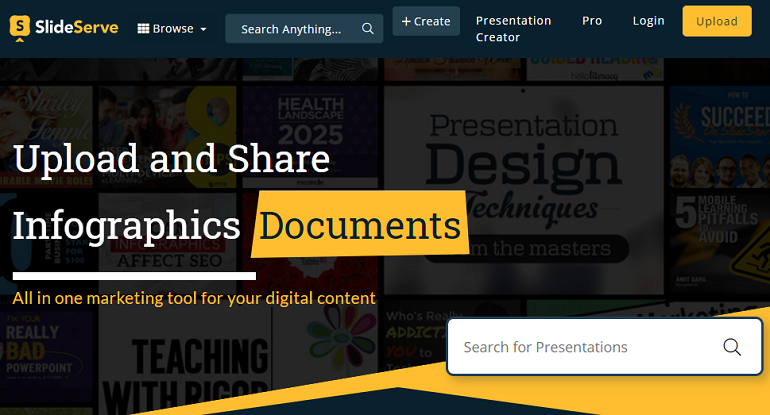 4. Visme
Visme is another great tool being used to create presentations with visual representation and graphics. It has a drag and drop method enabling it to create a winning audience for making presentations. This platform offers a wide range of colors that can be used to craft beautiful color schemes for slides. Visme is a cloud-based working tool that can easily store presentations, making Visme a great choice among online PowerPoint makers.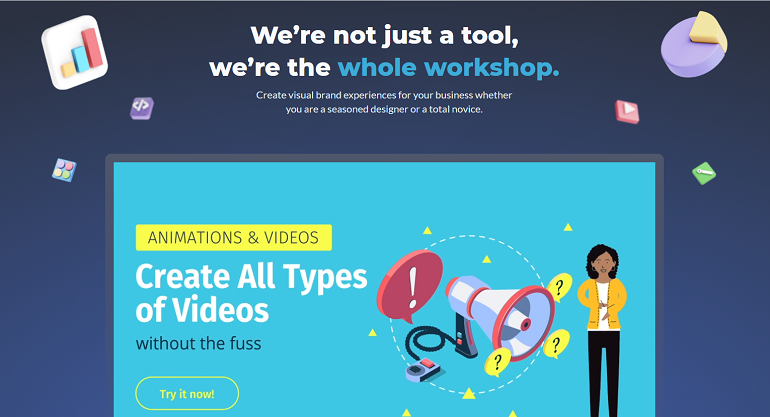 5. Slides
Slides is a multipurpose tool that can be used for PPT share and creating presentations online. Slides provides a wide variety of features and is considered one of the greatest online presentation makers. Users can convert PowerPoint to HTML easily and even code from scratch in HTML. Slides offers the option of PPT share making it hassle-free to share slides with others.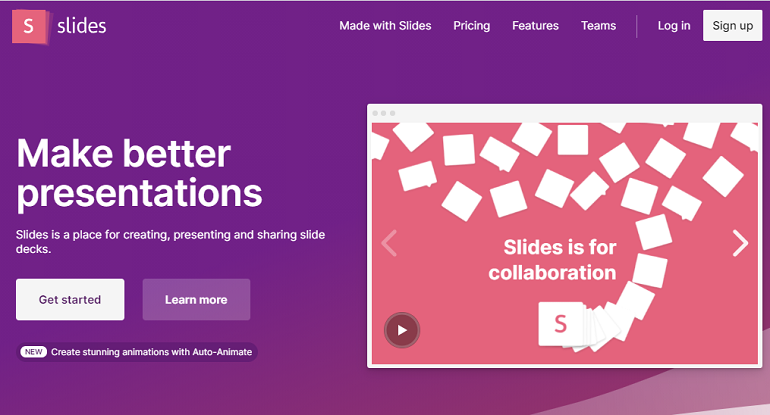 6. Ludus
Another well-known online presentation maker and PPT share tool in the market is Ludus. It provides the idea of a single end-to-end sharing along with multiple sharing in just a moment. Various usage brands have used it for making online presentations. Ludus also gives the option of storing data over the internet, making it a great and handy tool. Moreover, Ludus give free excess to a wide number of premium templates making it a top online PowerPoint maker.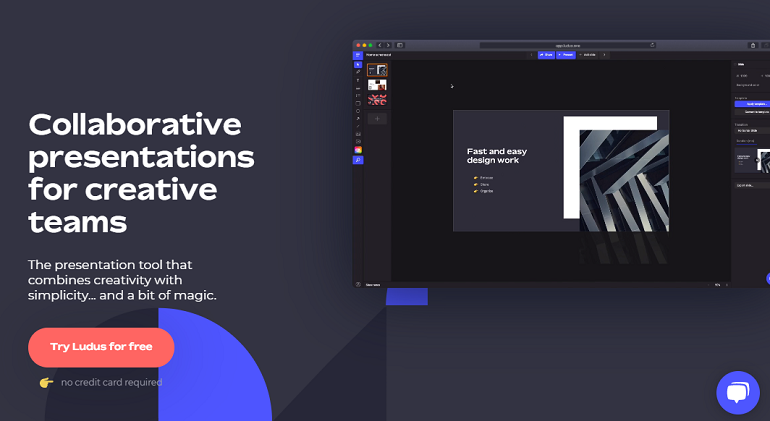 7. Google Slides
Zoho Show is a free presentation maker with minimalist and contextual UI that allows you to easily add photos, edit text, animate slides, etc. Zoho Show comes pre-installed with more than 100 templates to meet all your professional Presented by Google, this is one is a great option for online presentation makers to use. The work dashboard is quite similar to Microsoft PowerPoint, so you can easily manage Google Slides if you have used PowerPoint. Easily share slides from Google Slides via your email and even store them on your drive with ease. Google has been making new and new updates with Google Slides, making it the finest online PowerPoint maker.
8. SlideDog
If you are looking for both an online presentation maker and a tool for your PPT share the SlideDog is also a great option. SlideDog lets you add customizable slides to the presentation with real ease. Select various transitions from the presentation library that SlideDog offers. Store presentations onto local settings as Google Drive or your Local Hard Disk and make your PPT share quite easy.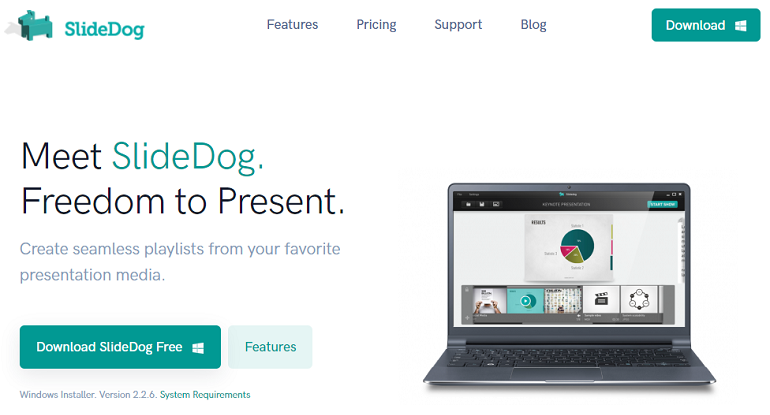 9. Prezi
One of the most leading online presentation makers is Prezi. Huge businesses and teachers, and NGOs have used Prezi as it provides a large number of features. Designing and creating a presentation with Prezi is quite easy, and almost everyone with a basic knowledge of PowerPoint can make one with ease. Prezi also gives a wide range of video editing and slideshow options. Save presentations and even share them online, making Prezi a top-notch medium for PPT share. Prezi comes with several pricing options enabling you to choose the one that suits your requirements.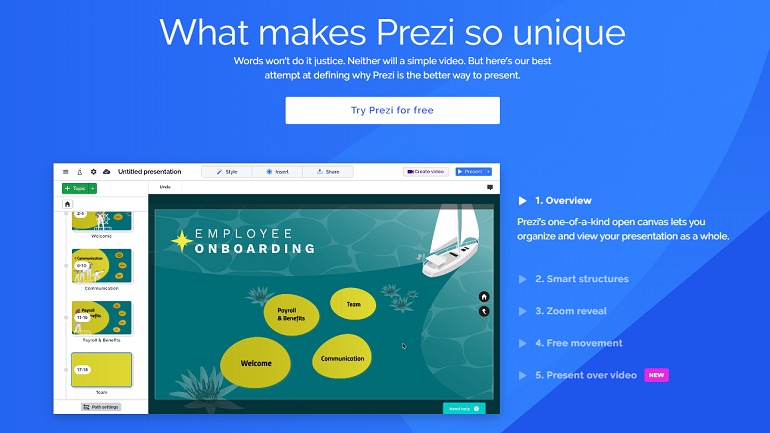 10. Zoho Show
Zoho Show is the best choice on the list of online presentation makers. Zoho Show is easy to use, and one can easily make the required amendments in their presentation the way they want. There are wide-size template options to select from and make presentations. Zoho Show lets you upload presentations anywhere you want, making them safe and secure. Various individuals have recommended Zoho Show for PPT share.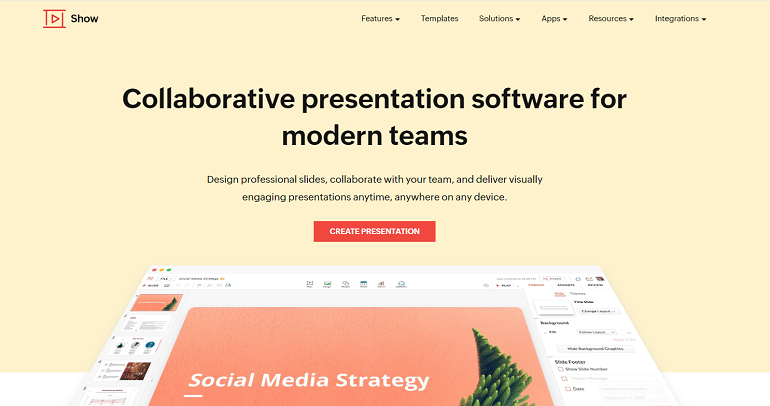 Final Thoughts
Creating presentations is easy due to the vars tools present on the internet. The best online presentation makers are the ones that enable users to perform different tasks and use them for PPT share. SlideHTML5 is on the top of the list of online presentation makers offering a number of great features to its users. One can choose so choosing the one that suits you the most makes your creativity into reality.
Create Online PPT & Share Now