Are you looking for the Google PowerPoint Online alternative? There are several reasons to use other tools to make your presentation innovative. The free online presentation maker can be helpful for the majority of the users if they are looking for advanced features. All these are available with plenty of tools to design the presentations as per the users' needs easily.
However, choosing the right Google PowerPoint Online alternative is not easy. One should consider all the features. Some of the efficient and famous tools are here.
10 Google PowerPoint Online Alternatives You Should Know
1. SlideHTML5
Do you want to present in a better way? Now, users can upload and present their data to their audience with SlideHTML5. It is simple to convert PPT to HTML5 because just needs a few clicks. Moreover, this is the best way to transform any static content into useful information. There is no formatting issue, and no technical skill is needed. Power up your content marketing engine with SlideHTML5 online presentation maker. Deliver your next winning pitch deck or marketing plan fast with a spellbinding online slide presentation. Make slides online to put awesome content out there and watch it go viral. The online presentation maker makes content distribution an easy peasy job.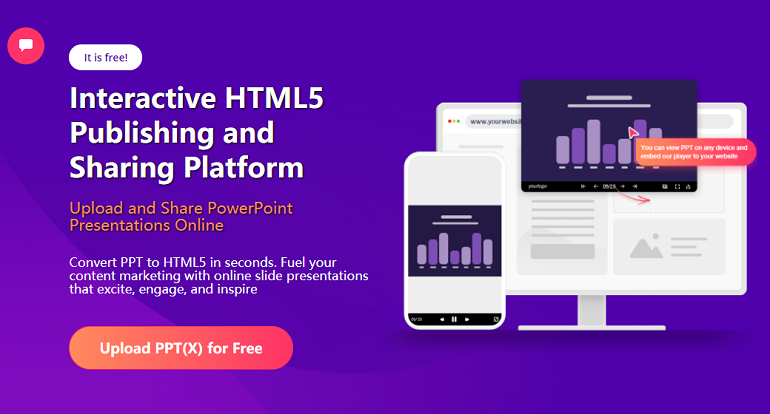 2. Prezi
Using Prezi is much beneficial compared to the online PowerPoint maker since it comes with various features that make it ideal for all users. Create nonlinear presentations with the help of this cloud-based software. This Google PowerPoint Online alternative can zoom and pan from one page to another or window, producing the impression to move and share slides. Manage your privacy by using Prezi to edit and view your presentation from all smart devices. The software allows its users to use advanced image tools for editing. Convert PPT to HTML5 or store all your slides in the cloud, users will find each task simple and easy.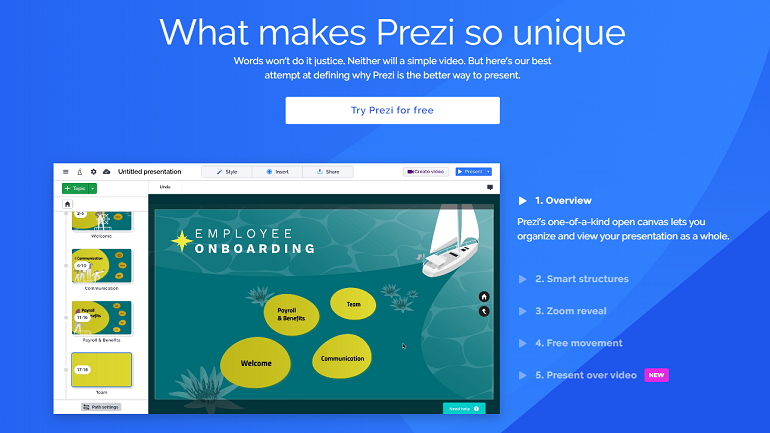 3. Slides
This cloud-based free online presentation maker provides a user-friendly and great alternative to PowerPoint. Its simple editor workplace lets its uses include background images, collaborate it easily, use a broad range of themes and designs. People who need a tool different from this Google PowerPoint Online software will find it the right option for their presentations since they can display math formulas, manage privacy, present offline, fork presentations, access to analytics, access to revision history, and many more.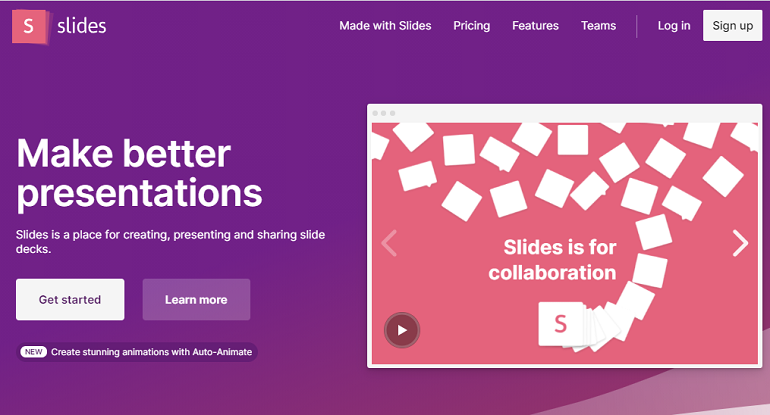 4. Zoho Show
This is the time to use a unique tool as an online PowerPoint maker different from traditional ones. Zoho Show can be the right choice for those looking for something different from the traditional Google PowerPoint Online software. With the help of this software, one can import and share slides in multiple files type such as .sxi, .odp, .ppsx, .ppt, .pptx, .pps. This is collaborative software that allows you to edit and comment on your presentation. One gets feedback easily. Moreover, they can publish their blogs and websites without any hassle. Embed Flicker images, YouTube videos, and live tweets.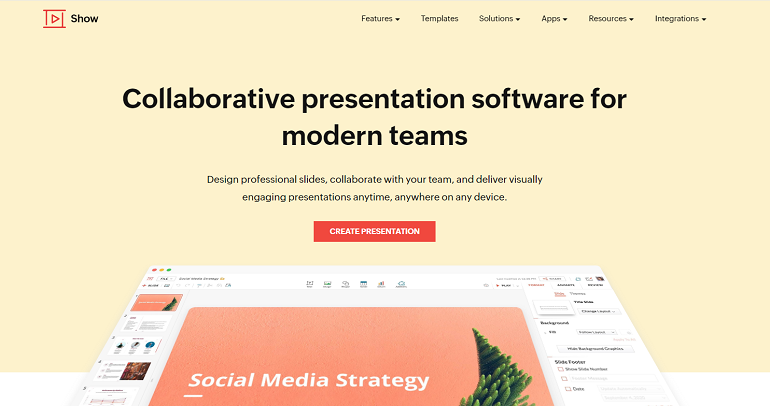 5. Google Slides
Save your entire work on Google Servers with the use of this free online presentation maker. The whole presentation can change with the theme and color picker. Google Slides allows easy collaboration in real-time with your team members. They can get access to the diverse themes and templates to make the presentation incredible. Google Slides makes your ideas shine with a range of different presentation themes. Get to your presentations anytime, anywhere by your tablet, computer, or phone— even without an internet connection.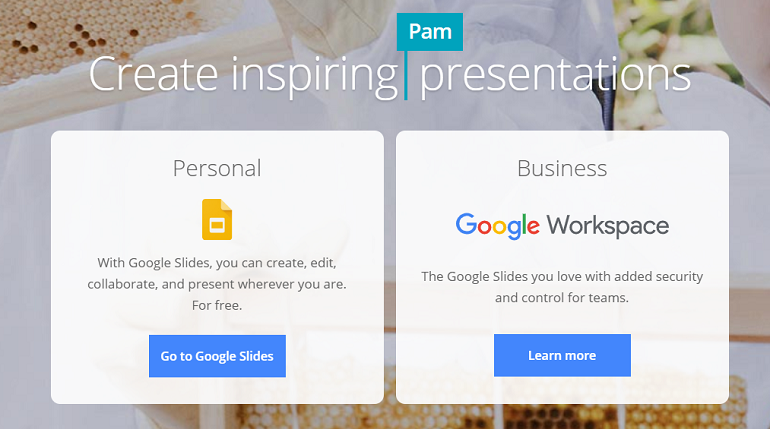 6. Ludus
If you are looking a software different from an online PowerPoint maker, then Ludus is your best choice. For vibrant, dynamic, and creative presentations, this is the best software. All its features are entirely different from Google PowerPoint Online because Ludus gives easy access to each slide. Users can easily drop and drag the objects from the computer or the internet into the slides. Use unlimited creations from other platforms, cloud-based files, VR experiments, sound clips, videos, and 3D models.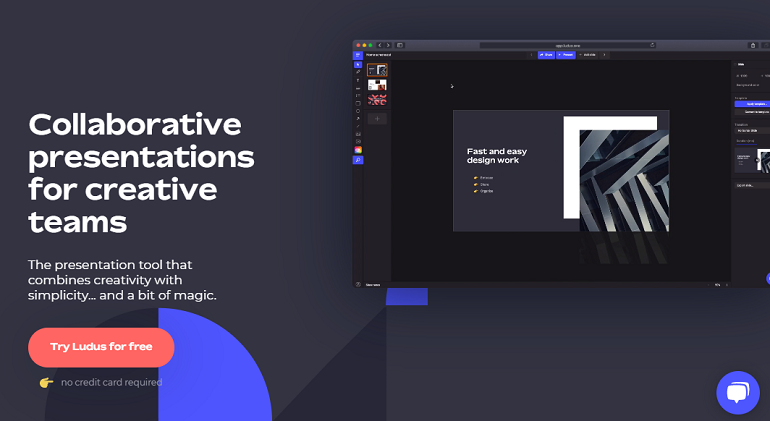 7. SlideDog
This free online presentation maker is tailored for the utilization of dual displays. It possesses a separate presenter screen with presenter's notes, a timer, playlist, and others. You will be in control, and your traffic can see what you need them to see. No doubt, this is the better option than Google PowerPoint Online because it comes with a more user-friendly platform. You will find it simple and easy to present your information online.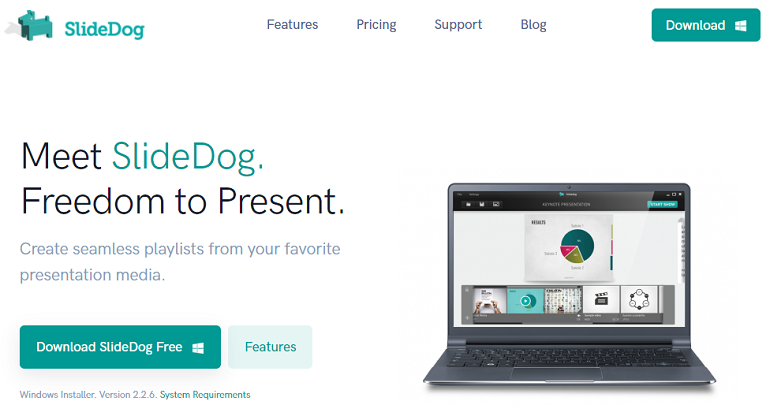 8. SlideServe
This Google PowerPoint Online alternative comes with various easy-to-use tools since all its slides contain images or websites. Each slide contains sound, and it plays back when the slide is shown. It supports media browsers, including application documents, movies, multimedia, and many more. For the majority of the users, it is ideal to use this software because of easy to edit tools. There are several unique templates and themes.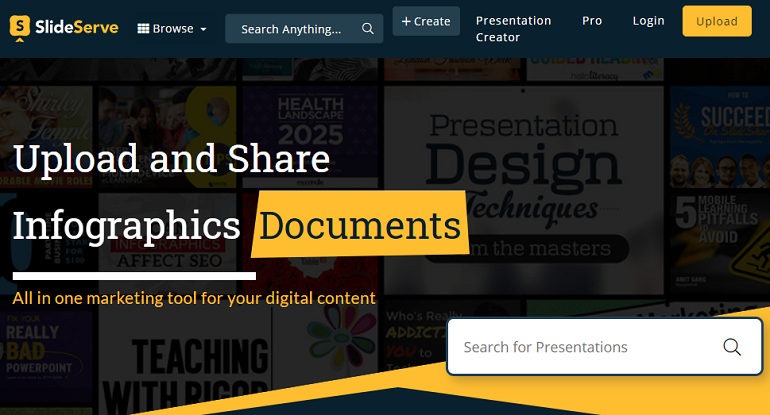 9. Focusky
This is one of the best Google PowerPoint Online alternatives that come with a variety of tools. Create a unique presentation with online templates, built-in themes, beautiful images, animation, transition effects, animation effects, zooming effects, 3D background, video background, and many more. All these specifications make it an ideal choice for all users because they do not need to worry about the format. It supports all the formats so convert PPT to HTML5 or others easily.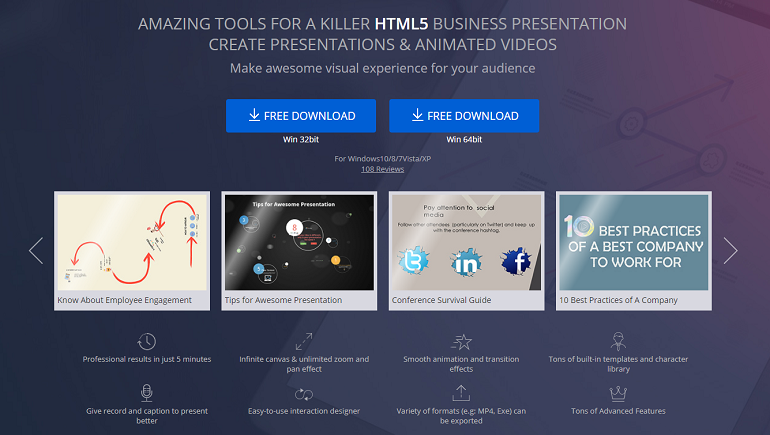 10. SlideShare
Upload files publicly in Open Document, PDF, PowerPoint, or another format using this Google PowerPoint Online alternative. It is an easy-to-use software that allows presentation streaming, interactive content, content library, Document automation, Document Storage, notifications, alerts, document management, permissions, and access control. It benefits its uses, including managing privacy, collaboration, easy editing, and much more. Share slides with anyone in few clicks.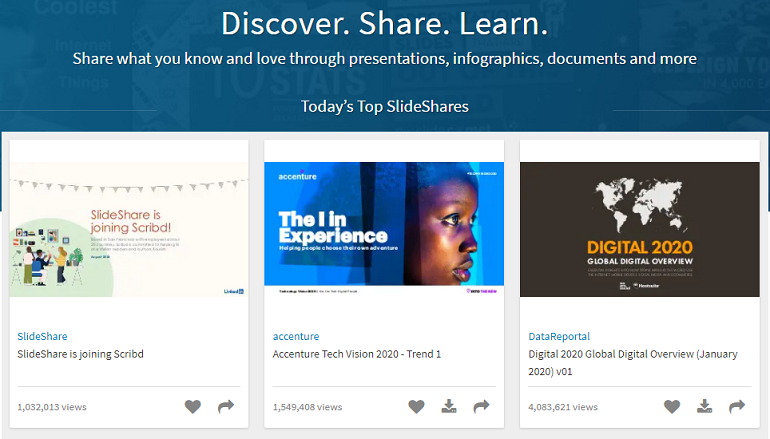 Conclusion
The majority of the people prefer to use an online PowerPoint maker. Some users want to convert PPT to HTML5, and some users want to share slides without any issue. Everyone search for the right tool as per his requirement. Therefore, it is important to check the vital features of the software that can make it appropriate for you.
Make Interactive Presentation with Online PowerPoint Maker