Conveying our thoughts to others is a complex challenge. In this era of converging technologies, where presentation design is crucial. If you are a businessman, you want to put on a good presentation that brings a lot to the table to make subsequent deals happen. Then you need an online presentation maker to help you achieve the next level of presentation design to get more sales. Let's dive in and have a look at the list of online PowerPoint makers and PowerPoint to HTML converters for you.
Top 10 PowerPoint to HTML Converters
1. SlideHTML5
If you are an online PowerPoint maker user and are interested in converting your presentation from PowerPoint to HTML, Slidehtml5 is the best choice. SlideHTML5 is a free online presentation maker that inspires, interacts, and excites and will help you boost your content marketing efforts. Convert PowerPoint to HTML online in a matter of seconds. SlideHTML5 is the simplest way to convert static data into interactive content. There is no need to install software or possess the technical expertise to easily create PPT online.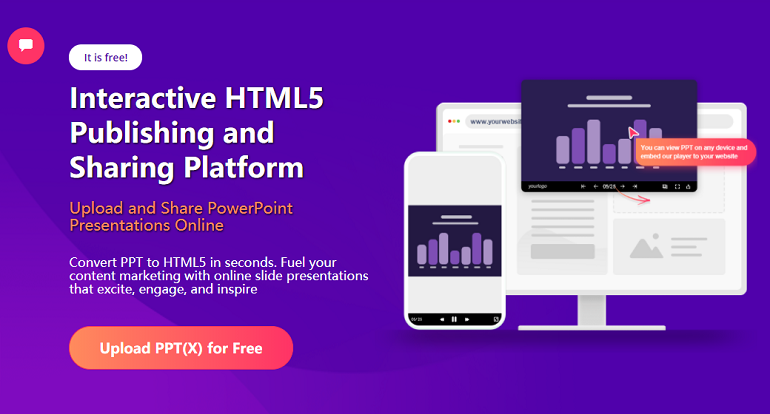 2. HTML5Point
HTML5Point is another leading interactive tool to create ppt online and convert your valuable presentations from PowerPoint to HTML. HTML5Point ensures that the animations, transformations, and other special effects associated with the original PowerPoint presentation retain their quality. Even at the primary, accessible level, you gain access to several useful features. Users who sign up for the free version receive up to 100 MB of storage and the ability to create videos up to three minutes in length.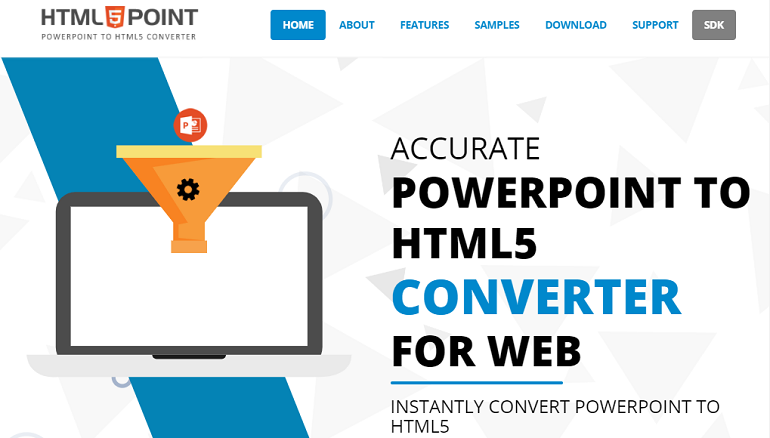 3. Focusky
Focusky is a premium free presentation maker and ppt share platform to create and convert your presentations from PowerPoint to HTML. It provides all kinds of online presentation templates that enable you to create an amazing HTML5 presentation just in minutes. Both Windows users and MAC users can benefit from it when creating and converting animated videos for presentation. Numerous conversion formats are available, including HTML, EXE, ZIP, MP4, and even PDF. What makes it even more remarkable is how PowerPoint's presentation features are integrated into Focusky, allowing users to add footnotes and illustrate items directly during the presentation.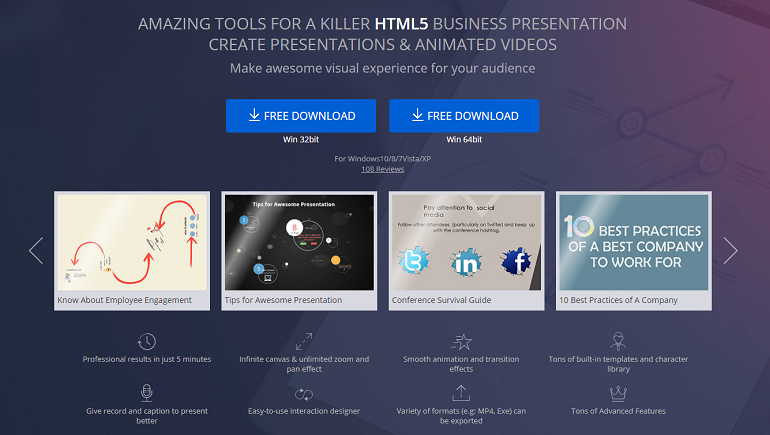 4. SlideServe
SlideServe is a free presentation maker that converts your eye-catching presentations from PowerPoint to HTML. Slideserve's presentation viewer is built in HTML5 (using Digitalofficepro's PowerPoint to HTML5 conversion technological tool) and retains all visuals, transitions, and other special effects from the original PowerPoint presentation. SlideServe is a ground-breaking free Slideshare service that enables users to create ppt online and share ppt presentations easily, discover and view PowerPoint presentations online.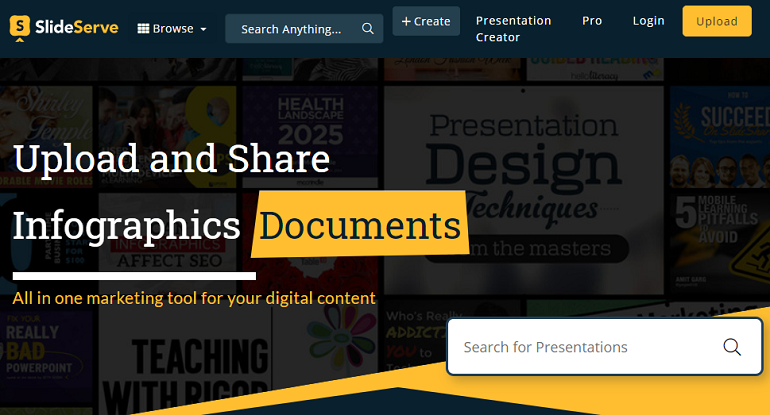 5. Ispring Converter Pro
It is an online PowerPoint maker and converter for distributing presentations to mobile and web formats. Converting PowerPoint to HTML with Ispring Converter Pro flawlessly. All effects and transformations will be preserved across all devices. Using iSpring Converter Pro, you can enhance your presentation's interactive and informational value by including complementary external resources such as YouTube and Vimeo videos and web objects.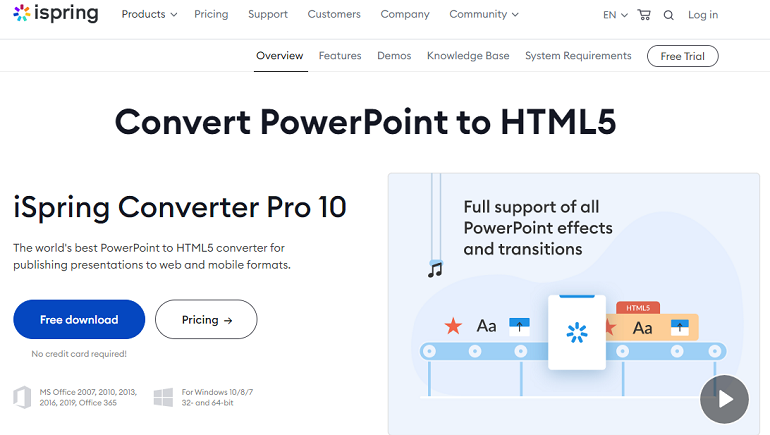 6. Ludus
Ludus is a trend-leading online PowerPoint maker and PPT share tool that is used by editors to prepare collaborative presentation designs. It has a dual nature of also working as a PowerPoint to HTML converter. You're in a comfortable working environment designed by an accomplished designer. Whether you choose to position it, you can freely use your favorite fonts, crop photos, GIFs, or video files and apply blending modes. Ludus uses each piece of content as a standalone unit or a "block" (Unsplash, Dropbox, Google Drive, etc.). Even your team can get in on the act. " This is entirely up to you: You can either present live or give your presentation with a URL that is personalized.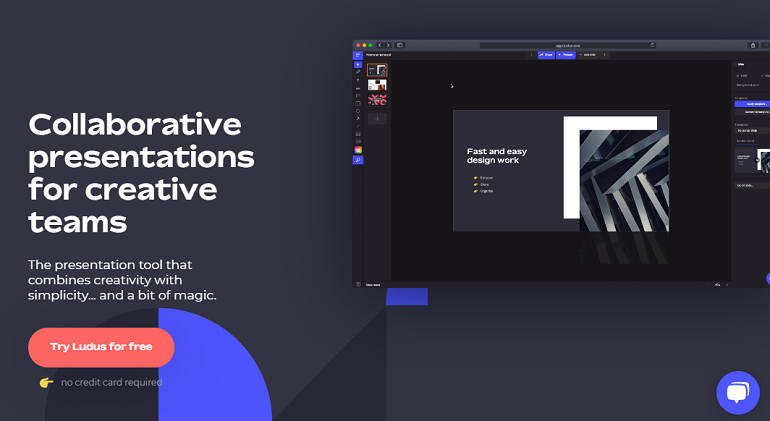 7. Zoho Show
Zoho Show is a fast-leading tool to create ppt online and converts your PowerPoint presentations to HTML with a blink of an eye. Zoho Show is a component of the well-known Zoho Office productivity suite. According to the official site, this office suite is free to use for teams of up to five users. Additionally, the free version includes some useful team-oriented features such as secured data collaboration and in-app chat. Zoho Office Suite consists of a knowledge base, blogs, and more.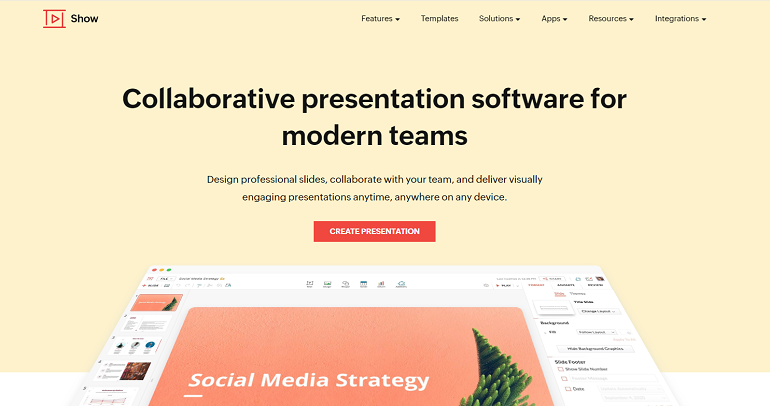 8. Visme
Visme is a powerful and free presentation maker with a wide range of capabilities. Create presentations, graphs, charts, and social media graphics. Additionally, quickly and securely convert presentations from PowerPoint to HTML. Enhance your presentation's interest by including video or audio or animating an object. Create up to five free projects and receive 100 MB of storage space with the accessible version of Visme.
9. Prezi
Prezi is a popular free PowerPoint maker and ppt share tool well-known for its graphical interface and non-linear presentation style. Additionally, you will be able to convert your PowerPoint presentation to HTML quickly and interactively. The zooming capability is quite impressive and there are tutorials and other instructional materials to assist you in learning how to use it. As its popularity grows, so does the number of third-party resources available. Prezi is available for free by downloading the basic version or signing up for Prezi basic or a free trial of one of the other versions.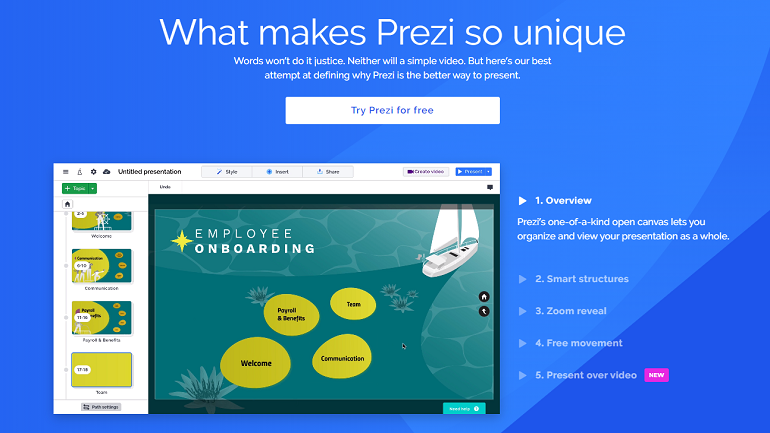 10. Slides
Slides is a suite of modern technical presentation tools that work as dual nature for converting PowerPoint to HTML, creating ppt online, and sharing ppt, available right from your browser. Downloads aren't necessary with this presentation software, unlike traditional presentation software. It's never been easier to collaborate with others to create an impressive presentation. Professionals worldwide use Slides to present at conferences, complete schoolwork, create portfolios, and much more. Become a member today and get a free trial.
Conclusion
Nowadays, the presentation of content is very vital as we always know preparing PowerPoint slides is one of the effective ways of content presentation, but when it comes to an HTML form, its presentation strengthens more. Using the PowerPoint to HTML conversion tools is necessary if we want to achieve eye-catching content that helps our presentation be attractive and engaging.
Convert PowerPoint to HTML Now